Saniflo launches Kinedo Kinesmart
Story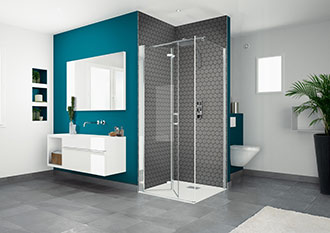 Saniflo – the UK's leading designer and manufacturer of macerators, pumps and shower cubicles – has added a range of shower enclosures to its Kinedo portfolio, the Kinesmart.
The new range addresses a variety of modern-day bathroom design needs and can be fitted with or without profile. Whether it's a new bathroom, a room with limited space, a wetroom or a shower with a level surface, the Kinesmart fits the bill.
In keeping with the Kinedo ethos, Kinesmart is swift and easy to install and with seven different options, there's a configuration to suit every bathroom. The different door and hinge options include a single panel enclosure for an open shower area, a pivot door or fixed panel and pivot door option for larger spaces, a sliding door model, a pivot door and side panel enclosure, a bi-fold door with fixed glass side panel for corner installations, a quadrant design with pivot doors also for corner showers and a quadrant with sliding doors.
The vertical profiles come pre-assembled for swift installation; whilst framed models feature integrated screws at each corner so installers don't have to worry about losing screws.
The Kinesmart swing doors can be fitted to open either inwards or outwards to fit any room and the 180 degree hinges mean the doors can fold flush with the wall to optimize space in the smallest of bathrooms.
Models with sliding glass doors have rollers pre-attached, allowing for swift installation, whilst pre-drilled slots in the profile ensure that lining up the profile with the walls and making any adjustments is easy and guarantees a perfect fit, overcoming the issue of uneven walls.
The new Kinesmart is designed to be fitted with Saniflo's new anti-slip Kinerock shower tray made from an extremely durable and versatile patented mineral material. Easily cut to size it suits any shower area and is available in a variety of standard and large sizes and colours to suit most tastes and requirements.
Kinesmart shower enclosures feature Crystal Plus Glass, in keeping with the Kinedo range, guaranteeing easy cleaning and maintenance of the enclosure, as well as the standard two-year guarantee.
Ann Boardman, Saniflo UK Head of Marketing and Product Development, comments: "The new Kinesmart is a plug and play solution for shower enclosures. The experts at Saniflo have carefully considered every showering eventuality when creating this new range and have taken the hassle out of delivering a stunning shower enclosure. There really is a Kinesmart design to suit every bathroom, whether traditional or contemporary. And combined with our new Kinerock shower tray, Kinesmart is not only a knock-out enclosure, but it surely is the smart choice when it comes to creating the perfect showering space easily and swiftly."
To order your copy of the new Saniflo domestic and commercial product catalogue visit www.saniflo.co.uk.
View Kinedo's profile: