Story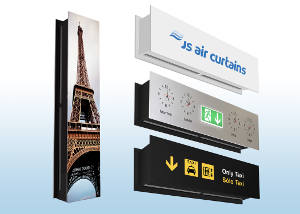 Architects and consultants can now enjoy a freehand with air curtain design thanks to the Zen from JS Air Curtains. Fascia panels can be custom made in many different materials, screen printed to carry logos or images, and manufactured to incorporate elements such as clocks and LED displays.
Materials designers have specified on custom Zen fascias range from stainless steel, wood, PU leather, high impact polystyrene and PET, each chosen to perfectly match the architecture of the entrance. As the fascias can also be provided with vinyl graphics, fire exit signs and illuminated 3D lettering, the possibilities are limited only by the designer´s imagination.
A "visual installation service", by JS Air Curtains, allows a designer to preview their creations with a realistic digital mock-up of the air curtain in-situ using an image of the entrance supplied by the client.
The Zen air curtain is supplied as standard with anodized aluminium fascia panels and a galvanised steel central structure finished in black forge; other RAL colours available on request. The unit can be mounted on brackets or drop rods horizontally above doorways up to 4.2m high to seal the entrance with an invisible barrier of air. This helps prevent cold air entering in the winter and cool conditioned air escaping in the summer.
The air curtain is easy to install and available in 0.5m lengths from 1 to 2.5m with the option to join units to cover very wide entrances, making it ideal for use in shops, restaurants, hotels and public buildings.
Heating can be via LPHW, electric or heat pump or alternatively the Zen is available as an air only, non-heated air curtain. Low noise, double-inlet centrifugal fans provide up to 2,700m3/h of airflow per metre of air curtain, with an option for an energy saving EC model. The discharge grille and air intake are in the same plane on the air outlets, so that the air flows through the unit in a straight line, creating a more powerful throw and a tighter seal across an entrance.
The Zen air curtain is supplied, as standard, with a manual controller with five fan speeds with three heater stages on electrically heated models. Seven metres of control cable and an infrared hand-held remote are included. The unit can also be connected to a BMS using protocol Modbus RTU.
A variety of different sensor and switch options can be combined with the Zen's controllers, including door switches, so the unit only operates when the door is open, time switches, so the units activate during certain hours, and room thermostats, so a constant internal temperature can be maintained.
JS Air Curtains, the UK's leading air curtain specialist, supply an extensive range of air curtains for all commercial and industrial applications.
View JS Air Curtains's profile: