BBA approves first ever renewable energy technology
Story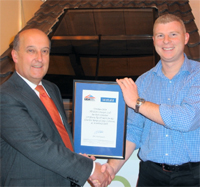 The British Board of Agrément has issued its first-ever Certificate for a renewable energy technology – the Clearline range of roof integrated solar water heating panels from Viridian Solar (Certificate No 07/4474).
Clearline is roof integrated, meaning that it replaces tiles and sits lower in the roof. The resulting aesthetic is a great improvement on the standard installation of solar panels above the tiles. In common with other quality solar panels, Clearline has passed tests to the European standard for solar panels (EN 12975- 2 : 2006).
The BBA and Viridian worked together to develop a series of tests.
Greg Cooper, Chief Executive of the BBA said: 'This was a new area for us but we have unrivalled expertise in the assessment of roofing products, so evaluating the weathertightness and structural aspects of the Viridian panel was straightforward, as was our examination of its behaviour in relation to fire. Measuring the energy performance was more of a challenge but again our experience in hot water storage systems was invaluable, as was the input of our client, and our work on durability over the years helped us derive a statement for that, too'.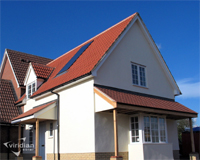 Peter Crane, Head of Standards at NHBC said 'NHBC welcomes the Certificate awarded to Viridian Solar for their roof integrated solar water heating panels. It is important that renewable energy technologies incorporated in new homes are both properly assessed and correctly installed'.
View BBA's profile: