Blackpool Pleasure from Bradite
Story
One of the most famous amusement parks in the UK is being kept in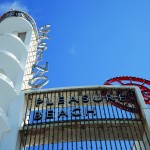 tip top condition thanks to products from the Bradite paint and primer range. Blackpool Pleasure Beach amusement park is located along the Fylde coast in Blackpool, Lancashire, and with millions of visitors a year, it is essential that the most visited tourist attraction in the United  Kingdom is maintained on a rolling basis.
Keeping the rides in pristine condition considering the elements of the environment is no mean feat: sea and salt spray from the adjacent coast are a highly corrosive combination but First Leisure Group, who manage the park, has found a perfect solution in the Bradite range of products, which has been the paint of choice for the park for many years.
As part of the park's rolling maintenance programme, the rides are being spot primed with Bradite EP92 and then coated with two coats of PG77 polyurethane gloss finish. As well as protection, the products also had to supply the required aesthetic finish: for structures the size of the rides at the amusement park, it was vital that an overall glossy, long lasting colourful finish was attainable that would catch the eye and entice visitors.
Each ride had its own colour theme, but the Bradite PG772 gloss finish is available in a broad range of RAL colours to satisfy the requirements of the theme park. Both the primer and the gloss finish were specified for their ease of use and longevity. The Bradite EP92 two pack polyamide adduct cured primer is designed for steel substrates, containing a high level of zinc phosphate anti­corrosive pigment. It provides a tough hard wearing film, which is flexible and abrasion resistant. The primer was followed by application of the PG772 two pack polyurethane high­build acrylic high gloss finish with excellent colour retention and weathering resistance. Surface dry in one hour, this is the perfect choice for the team of decorators at the Blackpool pleasure beach amusement park.
Painting the rides was not straightforward. The height and size of some of the rides meant that the decorating team has to abseil down the structures on ropes to complete the task, including the tallest ride in the UK, Pepsi Max Big One which towers 235 ft above sea level. Having a painting product range such as Bradite was an enormous benefit due to its ease of speed of application.
View Bradite's profile: