Story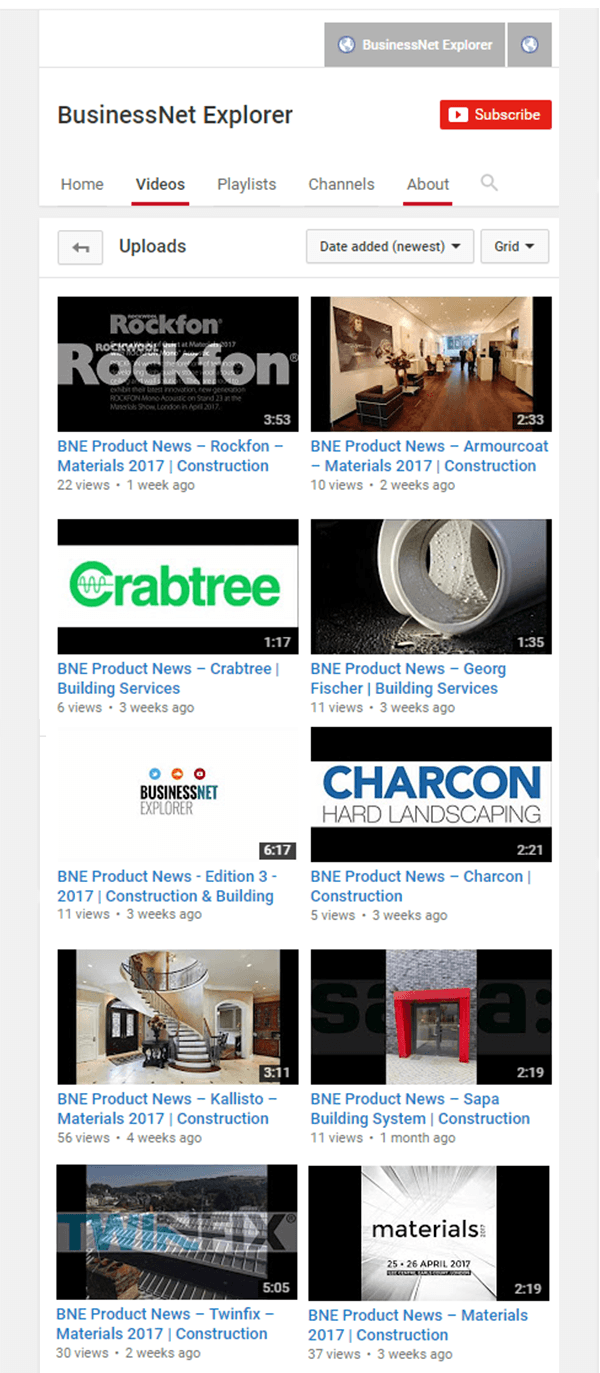 BNE – BusinessNet Explorer has launched a 'new media partnership' that highlights its digital media focus. BusinessNet Explorer is the product news and information channel for UK Construction & Building Services and associated Manufacturing and Energy focussed specifiers and buyers.
Managing Director Mick De Leiburne says: "We were proud to be given the opportunity to support Materials 2017 recently as a new media partner, providing updates on exhibition and exhibitor news on our portal and in audio / visual formats via our YouTube channel. The event organisers also provided us with an exhibition space to allow us to set up a mobile recording facility. This 'Voice to the Brand' opportunity was extremely well received and we recorded several interviews over the two days. These included industry 'thought leaders' from brands exhibiting, visitors to the show and senior members from the event management team. The interview recordings are now available as a special series of audio/visual 'Materials 2017 interviews' podcasts on the BusinessNet Explorer YouTube channel.
We're hoping to be able to announce additional exhibitions later in the year where we will be offering the same services, broadening the reach of what we have to offer."
In addition to the New Media offering, BNE offers the capability to provide brand managers with a short form press release service on an ad-hoc basis, to allow brands that do not have an agency to participate in 'exhibitor news' updates. Prices for this service depend on the requirements but are available on application and see the complete service on offer from one organisation.
David Schindler is the Event Director of Materials 2017 and he said: "We decided to utilise BusinessNet Explorer's podcast services and channel to allow us a collaborative promotion opportunity for the Materials 2017 conference and exhibition itself and also the individual exhibitors. The BNE Product News podcasts provide an easy way to gather information quickly about new developments in our industry and having such an immediate way to reach our 'on the move' audience is vital for us. So many architects and building designers are now used to sourcing information from YouTube or other social media and are often out of their offices, so this makes podcasts a useful addition within our communications strategy. Making this service also available to our exhibitors allowed them an opportunity to share podcasts in their individual promotional activities relating to their presence at Materials 2017."
Mick De Leiburne continued: "Our YouTube channel has a search facility allowing fast access to product news and information from leading and up and coming brands in audio / visual podcast format. The BNE channel search facility is positioned next to the 'About' button. You can search by brand, product type or Construction, Building Services including Electrical, Mechanical / HVAC product groups for relevant content. The playlists now have over 100 podcasts available including multi-brand news rounds, individual brand features and interviews. The whole opportunity is offered in harmony with GIANT PEACH new media."
BNE supports the memberships of over 50 Trade Associations and Support Organisations and the most common visitor types are Architects, Surveyors, House Builders, Local Authorities, Design & Build Contractors, Property Developers, Design & Build M&E Contractors, HVAC Contractors, Consulting Engineers, and Building Services Engineers.
You can link to the BNE YouTube channel at  https://www.youtube.com/channel/UCzSTsoF994swf05-feeZ2EA/featured, or follow BNE on Twitter at https://twitter.com/BNEproductnews. Subscribe to the BNE YouTube channel or follow BNE on Twitter to receive regular updates.  The link to the BNE portal is via www.BusinessNetExplorer.com.
For more information –
View GIANT PEACH's profile: