Bradite floors the competition
Story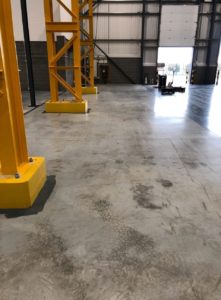 A warehouse floor in Barnsley was transformed using Bradite's new single pack water-based floor paint, DP9 Floor-It.
The 1200 sq metre power floated, porous concrete floor had been penetrated with oil so required preparation for painting with Bradite's TD39 Industrial Degreaser. Diluted with warm water, the solution was used to scrub the floor. Once dry, the floor was lightly abraded to provide a key for the Bradite DP9 Floor-It coating.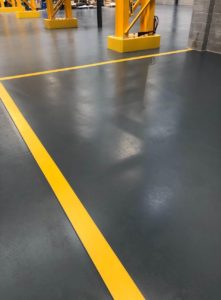 "I have used TD39 previously and I trust it to do the job," says Jay Summers, Managing Director of Bedford-based Mayfair Decorating Contractors who completed the renovation. "It was the first time for me with DP9, but I found it very user-friendly", he adds.
Four coats of the high-performance, water-based acrylic floor paint were applied by roller by a team of two. Completing the task in two phases meant the building could remain in use. Once the surface was fully cured, it was again able to withstand fork-lift traffic.
Thanks to DP9's quick recoat time of just 1 hour, it was possible to apply two coats in a day.
"Because the DP9 is water-based rather than epoxy resin, it is not thick and gloopy which makes it easy to apply," says Jay.
Bradite Technical Sales Manager, James Burton, re-assured him of the suitability of the product and the correct method of use.
"I can't fault Bradite or James for the advice given," says Jay. "I'd use it again. You'd be silly not to."
View Bradite's profile: