Story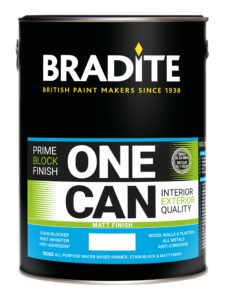 Specialist coatings manufacturer Bradite is doubling the appeal of its highly successful One Can Eggshell by releasing a Matt version of the water-based all-in-one primer and finish paint.
Offering the same full adhesion, anti-corrosive and stain-blocking qualities as its eggshell cousin, One Can Matt has been formulated using the same innovative technology but now offers a flat, matt finish for both internal and external use offering improved faster drying, application and durability.
One Can Matt launches at the beginning of March, two years after the launch of the original eggshell version.
Bradite National Sales Manager James Burton explains: "The introduction of this new offering provides the decorator with a greater opportunity to make use of the advantages of One Can. Its formulation provides all the benefits of One Can but with a flat matt finish. It is touch dry in just half an hour and re-coatable in one hour, meaning, if needed, three coats can be applied in a single day."
One Can Matt was developed following customer feedback requesting a hard-wearing, scrubbable finish for a range of applications, from high traffic wall areas, masonry and internal trim and furniture, where a flat finish was preferred but all the advantages of One Can were maintained.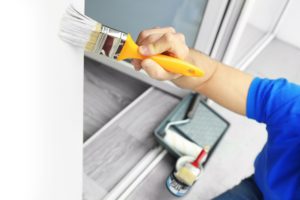 The paint combines a primer, undercoat and topcoat in just one tin and can be used as any one of these or all three. It is water-based, therefore has no smell, is stain locking and will help hide a wide range of blemishes including water, nicotine, rust or resin bleed.
It is ideal for priming difficult-to-paint surfaces both porous and non-porous including timber, ceramic tiles, glass, powder-coatings and many plastics including PVCu. It works as both an adhesion primer and sealer, is anti-corrosive and can be applied direct to both ferrous and non-ferrous metals.
As with the Eggshell finish, One Can Matt can be brush, roller or spray applied and is available in a full range of BS, RAL and NCS colours.
Its use, says James Burton, means less paint, less time, less waste, and more profit.
View Bradite's profile: