Crittall On The Right Lines With Crossrail
Story
Crittall is making a major contribution to new and refurbished West London railway stations on the multi-billion pound Crossrail infrastructure project.
Working for Network Rail contractors Hochtief Construction UK and John Graham Construction, Crittall has been creating the fenestration for a series of AfA (access for all) link bridges over the railway lines between platforms and ticket offices. W20 glazed pivot windows coupled on a fixed light with a PPC steel cement board made up the majority of the frames required.
The existing stations undergoing refurbishment and modification are at Southall, West Drayton, and Hayes and Harlington. The work, carried out by Hochtief, also included new buildings, platform widening and extensions, lift shafts and staircases.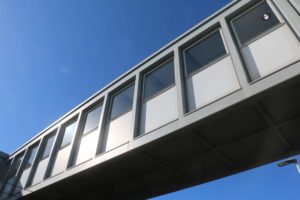 John Graham Construction was responsible for completely new stations at West Ealing and Acton Mainline. In all cases Crittall, working with the main contractors, organised the contracts so as to minimise disruption to the operation of the railway which has now been renamed the Elizabeth Line.
Just over half of the frames were fixed and glazed off site in Wiltshire and Rotherham then transported by the contractor to the site and craned into place during specific set times controlled by Network Rail.
The remaining windows for the contract had to be fixed and glazed on site at the stations during controlled 'possession' time slots at nights and weekends when the railway lines were closed of a period of time.
View Crittall's profile: