Story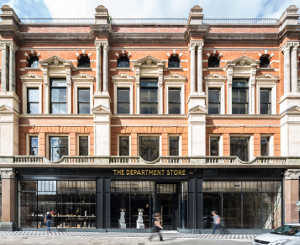 A showpiece re-use of a former London retail store in which new Crittall windows and doors are a key feature has won two major architectural awards.
The Department Store in Brixton now serves as the magnificent headquarters of architects Squire & Partners. It has been named as a winner in both the Royal Institute of British Architects' 2018 National and London Awards.
A dilapidated shell was all that remained of the once stylish 1906 store. Multi-award-winning architects Squire & Partners decided, in moving their head offices from Kings Cross, to strip the sad Brixton building back to its raw original condition and, in so doing, reveal the decaying grandeur of its original construction and fittings. These features would be re-used where practicable and highlighted.
These included original first floor Crittall windows, featuring distinctive circular glazing bars, while new internal screens, roof terrace fenestration and ground floor storefront windows, some including curved glass, were installed, using Crittall MW40 and W20 profiles.
RIBA award judges said this was: "A stunning building which has been brought back to life". It had undergone "Exceedingly exquisite and sensitive restoration, filled with beautiful material choice, attention to details and wonderful spaces."
Particularly noted was the architectural modelling space on the ground floor "providing inspiration to passers-by who peer inside to see the display of what architects do and how we work." It is the new Crittall storefront windows that afford this view.
The re-born Department Store now offers more than 6,000 square metres of space spread over four floors incorporating open plan offices, breakout areas, meeting rooms, exhibition spaces, a model-making workshop, a café, bar, roof terrace and a record shop. Clumsy later additions and extensions were removed in the restoration and its original wooden floors, brickwork, marble, terracotta and, of course, steel windows, have all contributed to a truly back-to-the-future design.
The RIBA judges concluded: "This project has a sense of fun mixed with honouring history which brings delights to those who step inside."
For Crittall Windows group chairman John Pyatt said: "We were delighted to have been part of this tremendous building transformation which underlines the fact that our products never go out of fashion."
View Crittall's profile: