Download a FREE guide to Amendment 3 from Amtech
Story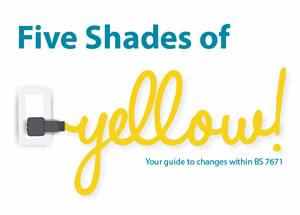 Amendment 3 to BS 7671 (aka the 17th Edition Wiring regulations) is due to be published in January 2015 and will come into force in July 2015. To help electrical specifiers and installers get to grips with the new requirements, Amtech has published a handy guide to the five most significant changes.
Entitled 'Five Shades of Yellow', reflecting the distinctive yellow cover of Amendment 3, the Amtech publication takes each of these key changes in turn and provides an overview of the current situation and the significance of the forthcoming changes.
For example, it explains the significance of the new regulation numbering system, provides an overview of changes to requirements for protection against electric shock and explores the introduction of a new minimum voltage factor when calculating maximum fault loop impedance values for protective devices.
This invaluable reference document also flags up inclusion of characteristic curves for 2A and 4A rated protective devices and highlights an important change to the model inspection, testing certificates and reports.
Five Shades of Yellow can be downloaded at www.amtech.co.uk/five-shades. Its content is currently based on the proposed changes in Amendment 3 and will be updated should these change at the time of publication.
View Trimble MEP's profile: