Ecobuild success for Saniflo
Story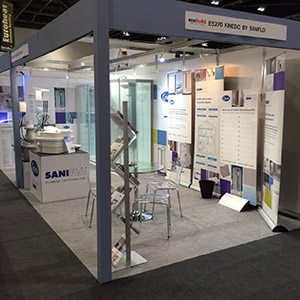 Saniflo UK – a leading name in the plumbing & drainage sector – is reporting a successful exhibition at Ecobuild, which took place earlier this month at the Excel Centre in London.
This was the company's second time exhibiting at the show and this year the focus was on the prestigious Kinedo range of shower cubicles with a Kinedo Horizon shower cubicle, a Kinemagic Design shower cubicle and the Saniflo Sanifloor all on display.
Saniflo UK Customer Services and Marketing Manager, Ann Boardman, comments: "Ecobuild was a great success for us. Showcasing the Kinedo range comes at a time when we're noticing more specifiers, house builders and installers switching to cubicles from enclosures.
"Ecobuild provides us with a great opportunity to reach a wide, live audience. It's taken a while for the sector to latch onto cubicles and the benefits of them have often been misunderstood, but as soon as industry professionals experience them in the flesh they realise the potential and benefits.
"We spoke with a high number of industry professionals who are working on residential, hotel and leisure projects. They love the fact that the Kinedo range not only looks great, but as the cubicles don't need silicone and grout for installation and the internal opaque panels eliminate the need for tiling, they can be up and running in just a few hours in a pre-prepared area, meaning projects can be turned around faster and with less hassle."
View Kinedo's profile: