Story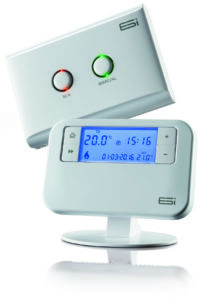 The new leader of the pack in the heating controls sector here in the UK – ESi – has seen its controls specified for a landmark development in the centre of Birmingham.
When City councillors in Birmingham gave permission to developer Moda Living and Glenn Howells Architects to execute their joint vision of a 132-metre skyscraper, which would become the tallest residential building in the city they continued a trend that has seen Birmingham take the lead in developing living spaces close to the city centre. The 42-storey 2one2 Broad Street features a slim rectangular profile thrusting out of a three-storey podium set to house 3,251 square metres of retail space. It's built on the site of the old Tramps Night Club, close to Brindley Place.
The 481-unit apartment tower, with apartments for rental only, will include a 200-metre outdoor running track on the podium roof, the first of its kind for a residential building in the United Kingdom. Nearly 3,000 square metres of communal and amenity space will be provided within the skyscraper, including a residents' lounge, dining club area, and wellness zone. The building's elevators will be tech-savvy, with smart elevators controlled by an app on residents' phones.
An exterior of floor-to-ceiling windows is interlaced with an enveloping bronze veil that emphasizes the verticality of the project. Inside, units will be split into 30 studios, 163 one-bedrooms, 260 two-bedrooms and 28 three-bedroom layouts. Main contractor for the scheme is John Sisk & Son of Birmingham and M&E Consultant responsible for installation of the heating controls is Imtech Engineering Services.
481 of ESi's ESRTP4 wired programmable room thermostats adorn the walls of these exciting new apartments. The ESRTP4 is an easy to install-and-use 7 day, 5/2 or 24hr programmable room thermostat which offers up to six time and temperature changes each day with different programmes for weekdays and weekends. The ESRTP4 has all the energy savings features such as TPI, Delayed Start and Optimum Stop and the all-important Landlord Service Interval.
Battery powered for ease of installation, the ESRTP4 has a large, easy-to-read blue backlit LCD display. It is easy to programme and operate because of the built-in programme options that the user can easily change to suit individual heating requirements. It incorporates a real time clock and calendar function which automatically changes between BST/GMT time changes. Time and date are factory-set making time setting or adjustment unnecessary. These room thermostats are OpenTherm compatible.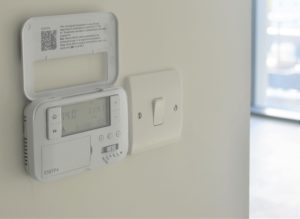 Daniel Jenkins is ESi's National Specification Manager: "We're delighted that our controls have been specified for this prestigious project – the tallest residential building in Birmingham.  As ESi Controls further expands into the specification market, we've opened our extensive range of competitively priced, reliable and simple heating controls to new projects and clients. Our excellent controls, paired with our dedicated specification team ensure that ESi Controls is the ideal company to provide a comprehensive solution to any residential heating control requirement. We are always eager to discuss our controls and prove our suitability to any residential development."
ESi became a part of the Swedish Addtech Group earlier in the year and has seen major growth in the business over the past twelve months with the tripling of the size of its head office and warehouse in Buckingham, an increase in the size of its sales force and the addition of major new business wins such as this one. You can find out more about ESi and its extensive product range by heading for www.esicontrols.co.uk.
View ESi Controls's profile: