Story
Structural fixings manufacturer, Ancon, has won a 2018 Queen's Award for Enterprise in the Innovation category, for the successful introduction and on-going development of its advanced composite, low thermal conductivity, Teplo wall tie range.
This is the third time that Ancon has been honoured in this prestigious award scheme that rewards outstanding achievements by UK businesses; it follows Queen's Awards for International Trade in 2015 and Innovation in 2012.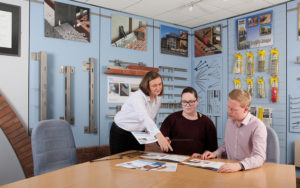 Teplo wall ties are manufactured from continuous basalt fibres set in a resin matrix; a fibre-reinforced polymer that is 70 times more thermally efficient than steel. When used to join the two leaves of a cavity wall, this material virtually eliminates cold bridging across the insulated cavity. Launched by Ancon in 2010 as part its market leading wall tie range, Teplo has had a major influence on the growth of low energy housing in the UK and Ireland, and helped future-proof traditional masonry cavity wall construction techniques, by minimising insulation thickness and wall footprint.
Whilst Ancon's first Queen's Award for Innovation in 2012 recognised the company's in-house development of a unique lockable concrete-connecting steel component, this second Innovation award has been won jointly with its external strategic partner in this advanced composite development, MagmaTech.
Head of Marketing and Innovation at Ancon, Annabelle Wilson, says "Ancon launches a number of new and improved structural fixing solutions every year and invites ideas into our innovation process from both inside and outside the company. We saw potential in this new material immediately, and over the last eight years have committed our business resources to improving and extending the Teplo wall tie range as part of the Ancon product portfolio, bringing the benefits of advanced composites to mainstream UK construction."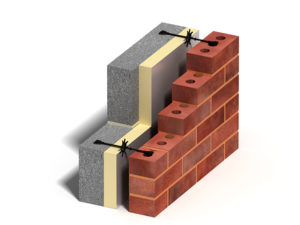 Today, the Teplo wall tie range includes Teplo-L suitable for surface-fixing in timber frame construction, the Teplo-BF with moulded safety ends that improve buildability particularly in lime and other slow-setting mortars, and the Teplo-BFR which can be resin-bonded in existing walls for retrofit applications. Teplo has been used in numerous ground-breaking developments, including the UK's first masonry cavity wall 'PassivHaus', the UK's first zero-carbon retrofit and the largest building in the UK built to the 'Passivhaus' standard, the University of Leicester's Centre of Medicine.
Ben Williams, MagmaTech's Managing Director says "Ancon has proven to be an exceptional partner for cutting edge innovation. They embraced a concept that was potentially disruptive to their existing stainless steel business, promoting it with passion and commitment. Taking a truly innovative energy-saving product to this level of market acceptance in just a few years is a truly outstanding achievement, surpassing our expectations."
Commenting on their latest triumph in the Queen's Award programme, Ancon's Managing Director, Stuart Maxwell, says "Winning three Queen's Awards in seven years is an extraordinary achievement and reflects the level of professionalism with which Ancon employees, in all areas of our organisation, go about their daily business. Our focus on quality and innovation, combined with a single-minded determination to excel in everything we do, not only underpins our brand reputation in the UK but its growing significance worldwide. It is another very proud day for everyone connected with Ancon and I thank our employees – both home and abroad – our customers and our suppliers for their continued support."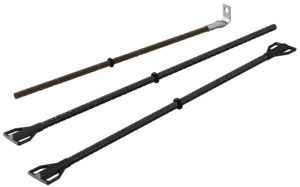 Later this year the Lord Lieutenant of South Yorkshire will visit Ancon's head office and main manufacturing site in Sheffield and officially present the 2018 award on behalf of HM The Queen. Ancon representatives will also attend a royal reception at Buckingham Palace this summer, hosted by HRH the Prince of Wales and other senior members of the Royal household.
View Ancon's profile: