GF COOL-FIT KEEPS IT COLD
Story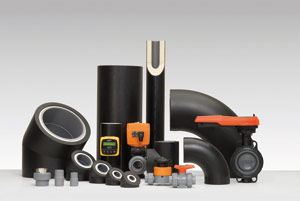 The latest products to come onto the UK market from Georg Fischer, whose GF piping systems enjoy a worldwide reputation for quality and reliability, are the COOL-FIT range of piping for chilled water, air conditioning and cold water services in general. To ensure that the new range covers all eventualities in the field GF has split the range into three sections; the core product of COOL-FIT ABS pipe with the addition of the more sophisticated, pre-insulated COOL-FIT Lite and COOL-FIT Plus. All the COOL-FIT products use quick, simple and ever reliable solvent cement jointing and are backed by a very extensive range of accessories to ensure that installation is as simple as possible. Although they are tough, durable and highly corrosion resistant, the light weight of these plastic pipes when compared to traditional materials makes them extremely attractive. As an example they are approximately one sixth the weight of the stainless steel equivalent. Acrylonitrile-Butadiene-Styrene is a complex, versatile polymer and GF has chosen an ABS formula for COOL-FIT that gives an optimum combination of toughness and strength making it especially suitable for low temperature applications. The pipes are in a gravel grey colour, available in 5 metre lengths and in sizes from 16mm up to 315mm diameters. Sizes up to 225mm operate to a nominal pressure of 10 bar at 20º degrees and those above, a nominal pressure of 6 bar. The COOL-FIT Lite products are pre-insulated with a layer of Armaflex Class O insulation, blown onto the ABS pipe to ensure a tight and secure fit. Dust, fibre and CFC free, this elastomeric nitrile rubber layer has a vapour barrier to prevent condensation and contains an inhibitor to reduce mould and bacterial growth in addition to providing effective and reliable protection against energy loss.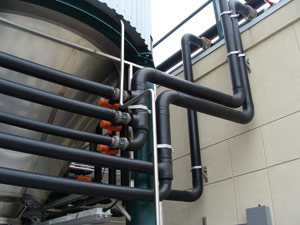 It can be used with solutions of salt, glycol and alcohol as well as pure water and has a minimum working temperature of -40º degrees Centigrade. Top of the COOL-FIT family tree is the Cool-Fit Plus range. Here, the carrier pipe & fittings are coated with high density polyurethane closed cell foam (PUR) and then a HDPE outer jacket that offers excellent impact resistance and aids installation by simplifying pipe support. It has a minimum working temperature of -50º degrees, is UV resistant making it ideal for outdoor situations and, like the Lite products, is compatible with solutions as well as pure water.
The accessory range for the COOL-FIT system is comprehensive including bends, tees, crosses, sockets, plus adaptors and reducers of many types and a variety of valves. There are even such basic needs as solvent cement, pipe cutters and sealing tape to ensure the utmost simplicity for the installer. The system also has the advantage of the full backing of Georg Fischer Sales Ltd. based in Coventry who can offer on-line technical design advice including calculations of energy loss and temperature differences as well as on-site advice and installation training if these are required. The GF COOL-FIT range is a class act.
View Georg Fischer's profile: