Story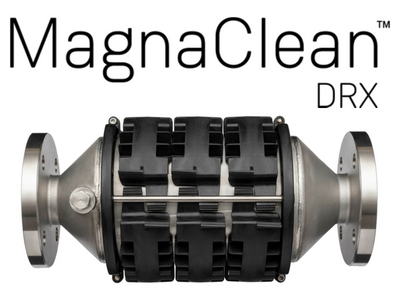 The brand new MagnaClean DRX is now available.
Its innovative and compact design includes a magnetic belt wrapped around a precision engineered stainless steel case which makes installation and servicing quick and easy.
The MagnaClean DRX has a robust and versatile design
The DRX has joined ADEY's family of filters which are designed specifically for commercial systems. It will provide essential protection for plant rooms and comes complete with a host of features to provide a versatile solution for heating engineers:
Innovative and compact design which includes magnetic belt technology
• Flexible installation options – for both in-line and side stream applications
• Easy to service
• Effective capture of black iron oxide sludge
• Captures large and small size particles
• Available in sizes 2", 2 ½", 3 " and 4"
To see the DRX's design for yourself, you can watch a brand new video that is available via the ADEY YouTube channel: https://youtu.be/mOVnVCFNpAs
Along with the rest of ADEY's range of Commercial filters, you can also download Building Information Modelling (BIM) technical data for the Magnaclean DRX by visiting adey.com / bim-store or via bimstore.co.uk
ADEY's Commercial Division has also been expanded to support their customers further:
The continued expansion of ADEY's Commercial Division now means that customers have access to a dedicated and highly-experienced team who are able to offer focused technical insight, help and advice, no matter what the system size, scale or problem.
To request a free site visit where a member of the ADEY team will come out and assess your plant room, just go to www.adey.com/support/customer-support
You can contact ADEY on 01242 546 717 or via info@adey.com
You can also keep up to date with ADEY's latest activities via their social media channels: Facebook, Twitter, YouTube, Instagram and LinkedIn. And if you would like to find out more about the MagnaClean DRX or ADEY's Commercial range, please visit adey.com
View Adey's profile: