Story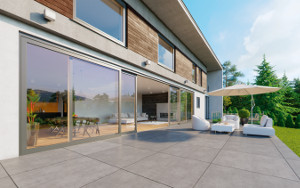 Much has changed in relation to door and window technology over the past 20 years and this is reflected in the increasing popularity of features such as large span roof windows and bi-folding doors. Both are now used as an intrinsic element of interior design as they enable natural daylight to transform areas in which we live and work.
For walls, use of floor to ceiling glazing has enabled exteriors to be 'brought into' the living environment, capitalising on views provided and enhancing perceptions of space. Design engineers are now, however, able to maximise the functionality of timber and aluminium to produce far larger sash and frame profiles than ever before. This requires a level of precision beyond the capability of traditional manufacturing techniques while, in terms of design complexity, durability, security and thermal / acoustic performance all have been considerably improved.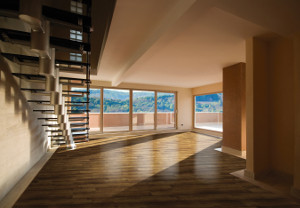 The type of timber used for the weight of such windows and doors is critical so Fakro opted for pine, oak and meranti hard woods to provide a combination of high performance and a high visual aesthetic. They also provide long-term structural stability, a critical factor not just for the ability to withstand distortion but to retain energy efficiency and airtightness. This was the driving factor influencing design of the Innoview range, in which triple and quadruple-glazed construction is used with low emissivity glazing and a quadruple sealing system. With warm spacers between panes, the overall heat transfer coefficients in is as low as 0.68/W/m2K (with Ug values of 0.3W/m2K in quadruple-glazed units).
Designs in which windows of such a large span are specified inevitably necessitates manufacture of bespoke sizes for individual projects. In achieving the ability to do so, Fakro can now fulfil the same service it has been providing with roof windows for more than 20 years. This enables architects and interior designers to create homes and work places with a distinctive identity and character while also meeting specific technical aspects of performance.
With scope to specify colours from the RAL Classic Palette and use of close-grain timber from FSC-certified sources, the standard of internal finish immediately provides clear evocation of quality. Modern coating and lacquering techniques, matt or satin finishes and choice of sash profile enable the windows and doors to complement the most diverse interior design requirements. Appearance is enhanced by concealed hinges and invisible fixings while use of sliders in conjunction with a roller lifter and rotary cam ensure that positioning in the frame remains constant, regardless of usage intensity. Soft closure also slows the sash movement prior to positioning it in the frame. Such ease of operation has been described as 'out of all proportion to what might be expected from windows of such a size'.
EPDM rather than silicone seals are used as they provide far greater long-term reliability through their shrinkage resistance and bond between glazing and frame. This not only gives far greater assurance of air and weathertightness but provides a greatly improved standard of finishing. Windows and doors have anti-burglary, multi-point locks and Class RC1 or RC2 glazing units (the latter optional extra providing nine locking points per window). The hardware also has sufficient strength to provide a load capacity of up to 150kg in standard door and window sizes.
Fixed, arc and multi-sash windows with movable or structural mullion bar, balcony doors with a low aluminium threshold and tilt or lift and slide doors are available. Widths of up to 12 metres and heights up to 2.8 metres as well as non-standard shapes can be accommodated with single or double sash lift and slide doors up to a weight of up to 400 kg.
In terms of design innovation considerable attention has also been paid to external appearance with powder-coated aluminium outer cladding providing a combination of high performance and lasting appearance. The potential to specify the required colour and absence of visible welds at corners provides seamless, contemporary styling.
Products such as Innoview HST doors have virtually no visible while PSK tilt and slide doors provide scope for micro-opening to provide room ventilation without reducing the level of security. Such developments can only provide further incentive to change the face of contemporary fenestration while providing scope to do so in designs up to Passivhaus standard.
View Fakro's profile: