Story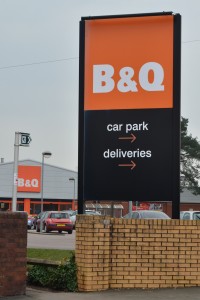 Leading air conditioning manufacturer LG Electronics is working with Bristol based contractor Sugoi Solutions to fulfil a contract they won from B&Q for an R22 refrigerant replacement programme. It's a programme that is seeing air conditioning equipment in more than 250 stores across the country replaced with new equipment that meets the 'F' Gas regulations.
It's a significant contract worth in the region of £1.4 million, and one that has had complex logistical ramifications. B&Q will not only end up with fully compliant air conditioning systems in all their 'back of house' store areas – the staff areas and administrative offices – but with a full asset list with every detail they need for the future. For each branch Sugoi has provided a list of the replacement units, a signed permission to undertake the work, a risk assessment, a health and safety assessment, an F Gas Logo Sheet, pressure test sheet, evacuation test sheet, a commissioning record sheet and photography of each unit, internal and external before and after, so B&Q has a photographic record of every one of the more than 1000 LG air conditioning systems installed in their stores.
Sugoi director Ben May says it's been the most comprehensive package of information they have ever provided as part of a replacement equipment contract: "We've undertaken the work in B&Q stores across the UK from the north of Scotland down to the Channel Islands! We've attended all the sites and organised access to the air conditioning systems, organised for the safe disposal of the R22 refrigerant in each case, sorted the removal and disposal of the existing kit and reinstalled like for like equipment. We've audited the work throughout the process and achieved 96% scores on the on-site audits of our work and as a result of the work we've done we've secured the maintenance contracts on all the equipment we've installed. We've provided comprehensive documentation for every store and for every piece of equipment we've installed.
"This is the biggest single contract we've ever undertaken and we're very proud of the outcome. LG equipment is excellent to work with and the support we've had from LG has been first class."
Andy Reed, Head of Air Conditioning and Energy Solutions at LG says he's been impressed with the work Sugoi Solutions has undertaken: "We were delighted to win this contract from B&Q but clearly needed an installation partner who was up to the task. We've been impressed by the work Sugoi has undertaken in two phases of the project either side of a period when B&Q did not want any contractors on site working in their branches. The information packs they have provided to each and every B&Q branch and their head office have been excellent.
The equipment selected by B&Q for its stores included a selection of split and multi split systems, wall mounted units and ceiling mounted cassette units. The contract was won by LG due to the company's technical capability, the product energy efficiencies, along with the ability to supply the units to a very tight time schedule and the agreement to an extended warranty on the products.
Visit http://partner.lge.com/uk for more information on the extensive range of LG equipment and services.
View LG's profile: