Story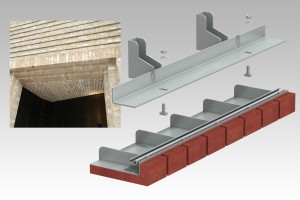 Creating flawless brick-faced soffits and lintels has now become much simpler and quicker, thanks to a new lightweight stainless steel based system developed by two industry-leading companies – brick support specialist Ancon Building Products and Ibstock Kevington –national manufacturer of brickwork and masonry special shapes and prefabricated components.
The new Nexus® system combines a specially developed Ibstock Kevington lightweight brick-faced steel unit with Ancon's tried and tested MDC stainless steel bracket angle support system. The system offers contractors easier handling coupled with maximum adjustability, both vertically and horizontally, for quick and simple alignment on site.
The new system offers considerable benefits over traditional cast concrete alternatives – cutting weight by more than half, which in most cases will allow the brick-faced units to be installed without specialist lifting equipment, and significant savings in installation time – making it particularly appropriate for fast-track or time-limited projects.
Individual Nexus® units are designed and prefabricated off-site to suit different soffit dimensions, even modern deep soffits, so there is no cutting required on-site. They are simply offered up to the pre-fixed and pre-drilled Ancon MDC support system and then bolted into position using T-head bolts. The quality design allows units to be simply adjusted for perfect alignment and, once in position, all that is left is for the brick facing to be pointed for a seamless match with the main brickwork.
Nexus units can be fabricated using virtually any brick or masonry with the chosen product being specially selected and precision cut, generally from the same batch as the main façade to ensure a perfect visual match. Various brick patterns can also be specified to match individual project designs and styles.
All system components are of the highest quality, and engineered for economy and durability, with slips permanently bonded to the high grade stainless steel Nexus system using a BBA accredited bonding system. Nexus has been independently tested for long term durability by Lucideon, the independent global experts in materials testing, analysis and consultancy.
Ibstock Kevington Sales Director, Warren Dean said, "Nexus ® is an exciting new development that brings together the combined experience and expertise of two major companies – each market leaders in their own area. The advanced design will not only make it easier and quicker to specify and install modern brick-faced soffit and lintel features in a range of different building applications, but the two-part design means it will be far easier to achieve perfect alignment with the main brickwork façade."
Further details and technical specifications for the Nexus® system are available in a new 4-page brochure, available to download from www.ancon.co.uk/Nexus.
View Ancon's profile: