MARSHALL-TUFFLEX ENHANCES ITS UNDERFLOOR TO DESK RANGE
Story
Leading supplier of cable management solutions Marshall-Tufflex has strengthened its underfloor to desk offering with a new collection of power and data modules as well as improvements across the range. The launch further underpins the company's commitment to offering a wide choice of excellent, robust products for its customers.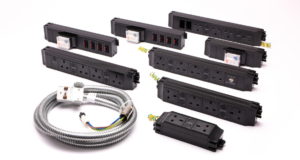 Marshall-Tufflex has expanded its underfloor to desk range with a new collection of power and data modules. This new range includes standard power modules, USB charge points, data outlets and RCBO Units in various configurations, to cater for a wide variety of installation requirements and layouts. The range is available with Wieland GST 18/3 connectors and plugs, or with 20mm knockouts to enable "on-site" hard wiring. Also available in a new six gang version.
Committed to providing the best possible solutions for its customers, the company has also implemented a number of product improvements to strengthen the entire underfloor to desk range. This includes upgrades to its Raised Floor Boxes, such as a new tougher trim for increased durability in areas with heavier traffic. Additional knockouts in the base for improved data cabling access have also been incorporated, as well as new data connections to meet higher data cable specifications.

RCD switched sockets have also been updated in line with the latest product standards and a new four compartment version is now available. Finally, to improve installation times and convenience, MT32 Floor Boxes are now available pre-wired, with MT32 Connectors and fitted with the updated RCD sockets.
Jon Chamberlain, Commercial Director at Marshall-Tufflex says, "We have responded to customer feedback regarding requirements on-site, and developed our products to meet changing standards, product requirements, and improve installation time. We pride ourselves on the quality of our products and we will continue to put our customers first when it comes to innovation and development."
For more information on the range, the Underfloor to Desk brochure has been updated with all the new products and designs. To view, please visit www.marshall-tufflex.com.
View Marshall-Tufflex's profile: