Story
Giant Peach introduces YouTube and SoundCloud options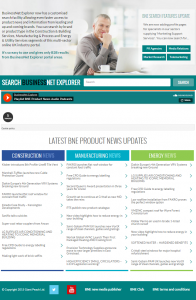 The world of communications never stands still and as we enter 2016, there's an exciting new option for companies looking to raise awareness of their products and services that makes that communication more powerful than ever before.
For UK Construction & Building Services and associated Manufacturing and Energy sector manufacturing and service provider businesses looking to communicate in a very targeted way with their trade target audiences, there's a new option from an established internet portal that makes information gathering via the internet even simpler – and quite a lot more fun!
Giant Peach launched its first sector portal in 2001 and has since developed BusinessNet Explorer – a new multi-sector portal with a state-of-the-art customised search facility. BNE aims to significantly reduce the time taken for the business community to search for B2B internet options.
Giant Peach's specialist team has already put together an impressive offering of product news and information access options via the BusinessNet Explorer portal, providing an easy to navigate and rewarding visit to the evolving BusinessNet. The company has now introduced a new BusinessNet Explorer YouTube channel and a SoundCloud podcast channel that makes trade news messages simple to listen to on the move and easy to gather information from.
The YouTube channel enhances the audio content from the SoundCloud channel based product news round and 'special edition' interview podcasts further by including supporting visuals. Both channels can easily be accessed via the BusinessNet Explorer home page www.BusinessNetExplorer.com
Both channel playlists include monthly product news round podcasts and a selection of 'special edition' podcasts featuring interviews with industry leaders covering topical industry issues, new products and product areas and new services available in the industry. The latest one available sees Nick Hayler, Technical Services Manager of Marshall-Tufflex, interviewed by Mick de Leiburne for BusinessNet Explorer covering a range of issues including the company's investment in new manufacturing technology that assists them in bringing new product developments to market more quickly. The number of new podcasts available will grow in the weeks and months ahead to provide a library of interesting options available in an easily digested format that hasn't been available in this sector before.
The initial podcasts are proving popular with the listeners and the companies involved in providing the information: "Our client Klober was extremely pleased to be contacted by us to determine whether they wanted to take advantage of BNE's first podcast," says Nigel Pittman at Pittman PR. "The number of individuals who listened in the first fortnight was very impressive, so we would recommend considering them as a worthwhile addition to extend marketing exposure."
According to Mick de Leiburne, it's all good news for Giant Peach: "It's another new offering from Giant Peach that is a direct response from our customers to the need for new ways of sharing news and spreading messages in the sector. It's a natural progression to the work we have been doing for several years and offers a value added service to the role we have performed successfully over that time. The value is more than doubled as the companies that are providing us with content for these podcasts are also making them accessible through their own web sites and communications processes. It's just a way of increasing the exposure that companies can get for news stories, case studies and new product and services releases that they already produce and at the same time meeting the growing demand within the specifier and buyer community to have the option to access product news and information in audio and audio / visual formats."
For more information on how you can spread the word through this exciting new medium, contact Mick de Leiburne via newmedia@BusinessNetExplorer.com or mobile 07971 081 620.
View GIANT PEACH's profile: