Story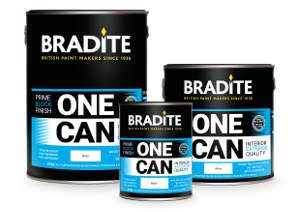 British manufacturer of high quality protective coatings Bradite is set to take the specialist paint market by storm with the launch of a new multi-purpose product that is suitable for use on all surfaces.
Bradite 'One Can', the first all-purpose water-based primer and finish in one can, will be available at stockists nationwide from Autumn 2018. The unique product is an interior and exterior, anti-corrosive, quick drying, low odour, low VOC, primer, undercoat and finish. It offers the decorator a single pack, direct-to-substrate paint that provides superior stain locking and adhesion properties.
The high-performance coating will give protection to many substrates including: cladding, UPVC, powder coated metal, steel, and timber including fencing, garden furniture and sheds.
In addition, 'One Can' gives excellent stain locking properties. It will block stains and lock them in the coating even hiding tanning, knots and resinous bleed when applied to hardwoods, as well as locking in water stains.
'One Can' also gives excellent anti-corrosive protection making the product ideal for application to all metals, both ferrous and nonferrous, including brand new galvanised steel.
One Can is easy to apply and is touch dry after 30 minutes and re-coatable after one hour. There is no need for buying additional primers and undercoats, 'One Can' can be used as both a priming and finish system, so each job can be completed in double quick time. The product is also compatible with all water and oil-based finish coats. No longer will three different cans be required and its superior adhesion properties means 'One Can' may be used with confidence on all manner of substrates.
It will be available in eggshell finish in the full BS and RAL colour range.
Bradite National Sales Manager James Burton says:
"Whether you are painting a small domestic radiator or the end of the pier the 'One Can' system will handle it. There's no reason why any decorator or maintenance person should not have this product in their van."
View Bradite's profile: