NEW RESIDENTIAL AIR CON RANGE LAUNCHED BY LG
Story
LG has launched its new range of residential air conditioning equipment,
the Econo, (ref: E09EM / E12EM), the Libero-S, (ref: P09EN / P12EN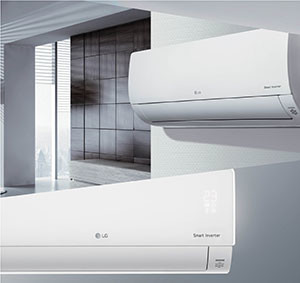 / P28EN / P24EN), and
the Libero-R, (ref: D09RN / D12RN / D18RN / D24RN).
All have had an upgrade and now come with Wifi options and a ten-year smart inverter compressor warranty, reflecting the reliability of LG units, as well as a stylish redesign to add to its successful ARTCOOL Stylist, the Mirror and the Prestige units.
These new energy efficient units are simple to install and come with easy to use controls and a large magic display allowing you to check the unit's energy usage. They're easy to open and simple to clean which lengthens the units' lifespan. Features include very low noise levels – just 19dB for the 9k and 12k models, fast cooling and heating, smart control – with Wifi option- and Gold-finTM coating protecting the surface of the outdoor heat exchanger from wear and corrosion.
These new units incorporate high pressure blade fans which provide indoor air flow rates 15% higher than conventional systems. The outdoor unit features high efficiency wings that create high efficiency cooling and heating and a 9m long power airflow corridor that provides a cooling response that is faster and more powerful.
Brochures can be downloaded from partner.lge.com/uk, or you can email LG HVAC.marketing@lge.com for more information.
View LG's profile: