NEW! Sanifos Underground Pump Stations
Story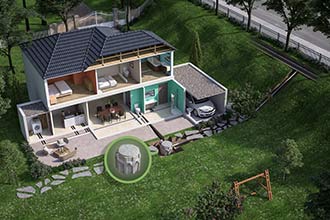 Saniflo has taken its 55 years of macerator pump design experience and translated it into a new range of underground pump stations for pumping residential and commercial waste water from flats, plants, outside event sites or public buildings.
The new Sanifos range consists of three models, the 110, 250 and the 500. The new products allow a pumping station to be sited outside a building and below ground where the drainage is too low for a sewer or too low for a surface mounted pumping station.
The two smaller units, the 110 and 250, are designed for the drainage of a single dwelling incorporating WC, bathroom, kitchen and utility room. With 110 litre and 250 litre tanks respectively, both units feature a single grinder pump with float activation and robust cutting blades to prevent clogging. The automatic 1500 watt motor is both powerful and quiet for unobtrusive operation and helps to discharge the waste up to a maximum height of 14m or horizontally along 110m or a lesser combination of both.
The Sanifos 500 features dual motors and is designed to work with a single dwelling with multiple storeys or multiple smaller holiday homes. It contains two separate load balanced pumps with high performance macerating systems that operate alternately for even wear and to provide a fail safe operation. In the event of overload both motors run simultaneously, or in the unlikely event of a motor fail, the other motor will take over. With a high capacity 500 litre tank the Sanifos 500 has multiple connections to take waste from bathrooms, kitchens and utility rooms in industrial or large domestic buildings.
For more information or for a copy of the Saniflo brochure please visit www.saniflo.co.uk.
For further information on the full range of Saniflo and Kinedo products please visit www.saniflo.co.uk and www.kinedo.co.uk.
View Saniflo's profile: