Next Generation Tools – Perfectly Connected – Networked Tools
Story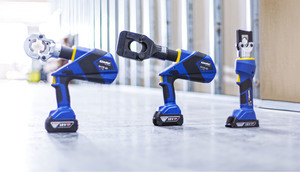 Setting the new standard:
A complete redesign has seen the launch of the impressive 'Next Generation' battery crimping and cutting tools from Klauke. Ergonomics have been further enhanced including soft grips and better balance. There are more powerful batteries up to 5.0Ah for longer working between recharge, and the construction has been made more robust and weather resistant for reliable, trouble free operation – ready for hard use in tough environments. An innovative LED display allows pressures, battery life and user profiles to be directly read from the tool. Data transfer for QA certification is now more easily achieved via the new Klauke App, linking any Smartphone or tablet using Bluetooth, meaning this data can be recorded in the field easily and conveniently.
Networked Tools:
No matter where you are in the world, you are able to stay in contact with your tool fleet via GPS tool tracking and remote interrogation. The on-line Klauke connectivity applications give you information about the physical location, condition of the tools, how much work they have completed as well as when the next service is due. Combined with an inventory management system which can alert you when service intervals are expected, the powerful software will become the choice for larger customers. Remote interrogation allows for theft protection as tools can be disabled if stolen. These tools are now future proof thanks to smart modules which means standard tools can be upgraded to the 'Connect' variants at any time. Providing you with complete control it's a world's first for crimping and cutting tools.
The range:
There are Next Generation solutions from the compact basket tray cutter (6mm steel rod), to cutting steel armoured power cables in Cu and Al up to 105mm
diameter. Crimping tools range from 6mm2 up to 630mm2 which are the most powerful and compact solutions on the market today. Used with the complementing Klauke cable lugs, these new solutions give you piece of mind and secure certified electrical connections.
View Klauke's profile: