Story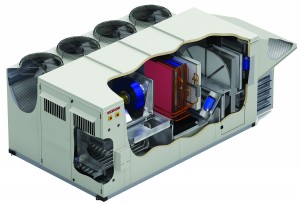 Nortek Global HVAC, the UK's leading supplier of gas-fired warm air heating and ventilation systems, has launched its first packaged HVAC unit.
Reznor's P125 is a packaged unit that provides heating, cooling and ventilation for commercial and industrial applications. The unit provides a complete standalone solution for clients requiring energy efficient cooling and heating systems with the ability to provide fresh air and extract air solutions, ensuring a very high standard of indoor air quality.
The P125 is so versatile that it can be used in a number of commercial and industrial applications including, restaurants, cinemas, events centres, arenas, showrooms, exhibition centres and shopping centres as well as distribution centres, warehouses and high-tech production facilities.
This innovative product from Reznor combines many energy saving features to provide class leading performance including modulating heating and cooling to provide accurate and proportional temperature control, variable speed fans to balance and control the airflow, along with heat recovery options with high efficiency thermal wheel and dehumidifying pumps.
Benefits
"For improved effectiveness and in order to maintain comfort conditions within a building along with air quality and humidity, an efficient HVAC system must be able to deal with all climatic variables. Reznor's range of rooftop units comprising models YDSA, YDHA and YDMA have all been developed with these factors in mind" says Steve Walford, Product Manager. .
The P125 is difference to its adversaries in that it has the ability to provide solutions for between 0 – 100% fresh air. Models YDMA 70 – 100%, YDHA 30 – 70% and model YDSA 0 – 30% fresh air. The unit meets environmental concerns by offering free cooling 0 – 100% using fresh air to reduce energy consumption by the compressors and features a digital scroll compressor with 10% to 100% capacity control to reduce running costs and provide accurate temperature control. There is also a variable air volume (standard) plug fan technology on all models, which reduces fan power for demand control ventilation.
A high efficiency integrated energy recovery (thermal) wheel is available on all models along with 10 – 100% gas modulation for close temperature control and reduced heating costs. The product also features a reheat pump option for superior part load performance.
Added to their existing portfolio of industry leading products, the P125 reinforces Reznor's position as leaders in the manufacture and development of energy saving products.
View Reznor's profile: