Story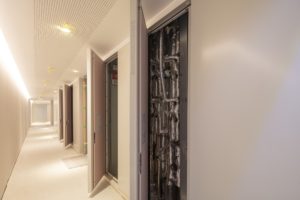 Situated in the centre of the City of London, One Bishopsgate Plaza is one of the first high-rise residential and hospitality developments to be built in the capital for a number of years.
Once construction has been completed, the flagship 43-storey tower will house London's first luxury 5* Pan Pacific Hotel, which will comprise of 237 rooms, an indoor swimming pool and a 370 capacity Pacific Ballroom, Square Mile's first dedicated ballroom.
From levels 21 to 41, the development will house 160 luxury one, two and three bed residential apartments, or 'Sky Residences', which will boast panoramic views of some of London's most iconic landmarks.
As part of the construction process, over 200 steel riser doors from Profab Access in a range of door leaf configurations and sizes from its 4000 Series, combined with over 300 bespoke ceiling panels from its 7000 Series, are currently being installed throughout the entire tower by BDL Dry Lining.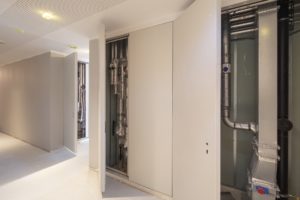 Specified due to their impressive seamless integration into masonry walls, shaft walls and drywall partitions, the riser doors provide discreet and secure access that won't impact on the overall interior design scheme of the development, a main consideration for the public and private areas of the hotel.
The 4000 Series' third party CERTIFIRE bi-directional certification from Warrington Fire was also a leading factor for specification, as the riser doors are fire tested from both sides to two hours, providing the highest standard of evidence for fire safety performance.
All of the doors were supplied with comprehensive CERTIFIRE accreditation documentation as evidence of Profab Access' up to date fire testing, providing both the specifiers and contractors responsible for the development with absolute confidence in the performance of the critical fire integrity products.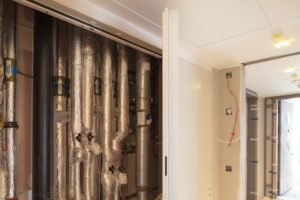 The 4000 Series is the only riser door in the UK to be independently bi-directionally fire tested and certified by an accredited third party, to ensure legal compliance.
A combination of one and two hour fire rated riser doors were chosen to be installed throughout all residential and communal areas of the building to not only achieve compliance with current regulations by eliminating the spread of fire throughout the building for the specified durations, but sufficiently future proof the building for years to come.
The bespoke Profab Access 7000 Series Ceiling Access Panels have also been specified for installation throughout the hotel bedrooms and communal areas to provide concealed and maintenance free access to the ceiling shafts.
Due to the significant size of the ceiling access panels, which span up to 1100mm x 1800mm, Profab Access developed a bespoke additional safety system that featured a one side lift out and one side swing/push latch mechanism. The innovative design assisted BDL Dry Lining's team of engineers in stopping the heavy doors swinging from the ceiling, while also enabling the panel design to work within a reduced space.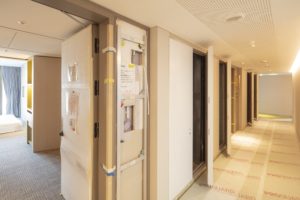 BDL Dry Lining is one of the largest specialist dry lining contractors in the UK and has been an installer of Profab Access riser doors and access panels on high profile commercial and residential projects for a number of years.
Tony Grayson, Project Manager at BDL Dry Lining, said: "This is a standout development to be involved with and we knew from the very beginning that Profab Access would be our go to supplier for this project.
"Over the last two years we have worked closely with Access 360's team of Specification Managers and Engineering experts to deliver and install the riser doors and ceiling access panels throughout the 41 storeys. The access solutions are extremely easy to install and offer the highest standards in performance, quality and compliance for unfaltering consistency across the entire site."
The riser doors are also 35dB acoustic rated, smoke sealed and airtight to Part L. In the event of a fire, the doors will maintain their frame and integrity for up to two hours, limiting the spread of fire and transmission of radiant heat for this period of time. The doors' intumescent smoke seals also enables occupants to safely exit the building, whilst subsequently minimising potential damage to other areas of the construction.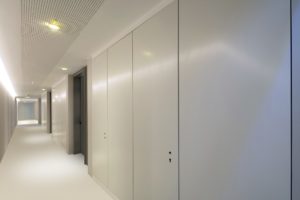 By specifying the CERTIFIRE bi-directionally fire tested 4000 Series Riser Doors, the development is actively future proofed as the comprehensive testing certification provides a complete and transparent audit trail of due diligence that evidences the products are not only fit for purpose, but meet the duty of care required to ensure legal compliance.
Mick Hill, Lead Technical Manager at Profab Access, said: "As One Bishopsgate Plaza is such a unique building, it required a bespoke approach that ensured the access solutions we provided were not only fit for purpose, but superseded expectations.
"That's why every element of the ceiling and wall access products have been individually considered, from the additional safety systems on the ceiling access panels, to the Euro Cylinder locks on the riser doors to prevent unauthorised access. The result is a complementary suite of solutions that provide unobtrusive access, without compromising on aesthetics."
Profab Access' comprehensive portfolio of access panels and riser doors are manufactured in-house at its headquarters in Atherstone and are supplied with impressive lead times throughout the UK. The products are supported by a wide range of BIM Level 2 and CAD files to aid the specification process and streamline the initial design stages.
Manufactured in accordance with ISO 9001, the 4000 Series Riser Doors and 7000 Series Ceiling Access Panels can be specified and installed in a range of configurations to meet each project's specific measurements and requirements.
For further information on Profab Access and its range of riser doors, access panels, and steel doors, call +44(0)1827 719051 or visit www.profabaccess.com.
View Access 360's profile: