Recotherm are industry leaders in pool ventilation solutions
Story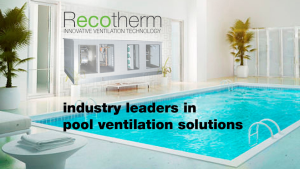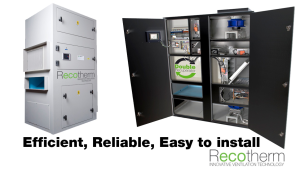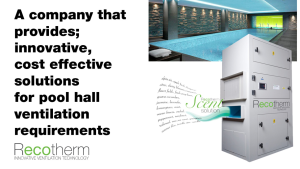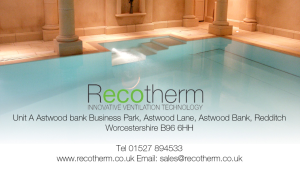 Recotherm is an established company that has built high quality climate control systems for indoor swimming pools since 1985.
Recotherm developed a unique concept in 1991, which was an industry milestone when launched. Previous experience with heat pumps showed that the technology was often under utilised and therefore expensive to run, so they set about a redesign that utilised the properties of 'fresh air'.
This concept breakthrough set the tone for Recotherm products for the next 25 years.
Recotherm's Martin Killen advised 'Recotherm's mission is simple, we want to engineer the best product for the job, for the best price, ensuring efficiency and running costs are at the forefront of our thinking and to develop new ideas whenever viable.'
Recotherm products offer several advantages, they offer
Products built specifically for the swimming pool environment.
Utilisation of 'Fresh air' for better climate control
No use of harmful refrigerants
Ultra Low running cost
Reliability, and are ease of maintenance
Simple installation with a flat pack solution for difficult sites, the systems need only to be connected to a heating circuit, low amperage electrical supply and return and supply ductwork and condensate drain
Large screen monitor for easy operation
Internal or external location
Why Recotherm use Fresh Air
Simply it replaces stale air with fresh warmed air, thus Chemical odours, stuffiness and condensation are removed.
With modern controls, efficient heat reclamation units and a modern custom designed ventilation strategy; Fresh air systems easily become more economical than refrigerant based dehumidifiers.
Recotherm are always innovating in their product features and can offer additional enhancements such as:
SCENT SOLUTION
This introduces fragrance into the air meaning that you can choose from a range of aromas making the pool hall smell like a spa experience
REMOTE MONITORING.
Recotherm units can be fitted with extra sensors and a SIM chip, to eliminate mis-diagnosis in the event of problems meaning wasted site visits are eliminated and a return to service speeded up.
Recotherm design and build their products in the UK and are available to consult with you and your technical advisors to engineer a perfect solution.
Please contact Recotherm for more information
Unit A Astwood bank Business Park, Astwood Lane, Astwood Bank, Redditch
Worcestershire B96 6HH
Tel 01527 894533
www.recotherm.co.uk
Email: sales@recotherm.co.uk
View Recotherm's profile: