Saniflo launches Kinerock shower tray with patented mineral material
Story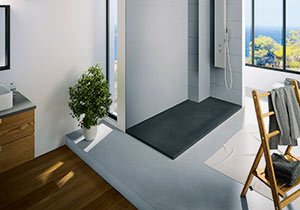 Saniflo – the UK's leading designer and manufacturer of macerators, pumps and shower cubicles – has added a new contemporary shower tray featuring its patented mineral material, the Kinerock, to its portfolio of bathroom products.
The Kinerock is no ordinary shower tray. Not only is it made from an extremely durable and versatile patented mineral material, it can be easily cut to measure to fit into any shower area. Available in a variety of standard and large sizes and colours to suit most tastes and requirements, the anti-slip surface reduces the risk of falling in the shower.
Kinerock is made from a mineral filler and acrylic resin. This means it is light and easy to cut to ensure a perfect fit. The gelcoat surface ensures it is durable and highly resistant to scratches and damage.
The Kinerock is an extremely comfortable, safe and versatile shower tray. The textured material offers good grip adding a feeling of security and reducing the risk of falling, and at just 40mm thick, the Kinerock offers easy access into a shower area. The material ensures the surface is not cold to touch for your comfort whilst showering.
Easy to clean and maintain, the Kinerock is kept looking pristine with just soapy water and the waste grill can be easily removed for deep cleaning.
Ann Boardman, Saniflo UK Head of Marketing and Product Development, comments: "There's a growing trend for ultra sleek, low level shower trays due to the popularity of contemporary and easy access bathrooms. The experts at Saniflo have really come up trumps with Kinerock. It looks amazing, it feels amazing and it is secure underfoot, plus it is easy to fit and care for. We think our patented mineral material is the way forward for shower trays. End users want versatility, and any shower tray that can deliver that, such as the new Kinerock, is a bonus."
To order your copy of the new Saniflo domestic and commercial product catalogue visit www.saniflo.co.uk
View Kinedo's profile: