Saniflo outdoor pump range extended
Story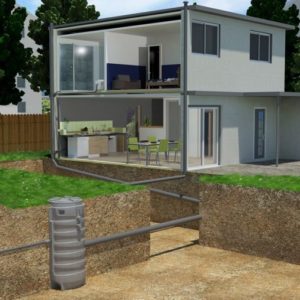 Sanifos is a range of underground pumps from leading macerator supplier, Saniflo. Three original pumps with capacities between 110 and 500 litres were originally introduced to take the waste away from buildings with no gravity drainage by a pump that could be sited underground. Now, this range has been refreshed with two model upgrades and extended with a number of new models.
The Sanifos 280 replaces the original 250 and offers an additional 30 litres capacity, whilst the new Sanifos 610 provides a huge 110 litres additional capacity over its 500 litre predecessor. Both models have two macerating options – a grinder or a vortex impeller and can pump up to 14m and 16m respectively. All models feature a wired alarm for early warning of any problems, whilst the Sanifos 610 offers a choice of single or twin pumps, three phase or single phase, stop and check valve and a SMART unit as standard on models with two pumps.
For public buildings or for multiple smaller buildings, Saniflo has introduced four large capacity models starting with the Sanifos 1300 which can pump waste up an impressive 17m. This unit features two pumps mounted on a cast iron mounting base with stainless steel guide bars. A choice of inlet height position is available and a template is provided for this purpose. Three further models – the 1600, 2100 and 3100 – enable customised lifting station solutions according to the project in hand. This includes single or three phase, alarms and control boxes, covers, float and pump options, as well as multiple connections required.
Whether it is for a full house, an extension, a series of glamping pods or the installation of a washroom, the Sanifos pumps provide a solution when traditional drainage is not available or civils works are too costly and troublesome.
View Saniflo's profile: