Saniflo spells out the showering possibilities
Story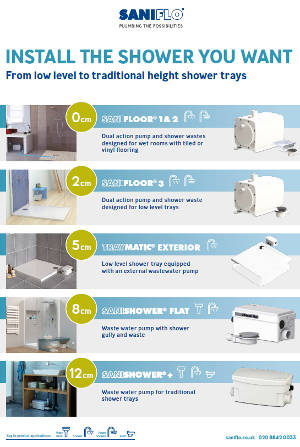 The UK's leading designer and manufacturer of pumps, macerators and shower cubicles, Saniflo UK, now has a stylish, easy to follow leaflet and poster spelling out all the Saniflo shower pump and shower tray possibilities.
The two-page leaflet highlights in detail the features of the Sanifloor 1 and 2, Sanifloor 3, Traymatic, Sanishower Flat and the Sanishower +, with important information about the low level and traditional height options displayed for each product, whilst the eye-catching poster provides an at-a-glance overview of the Saniflo shower pump range.
The Saniflo range of shower pumps and trays offers a solution for every type of bathroom, from uber contemporary bathrooms that require sleek, low level shower trays, which is a growing trend; to the more traditional bathrooms with step-up higher shower trays; and, there's also a solution for wetroom applications even when floor formers are used. The height of the Saniflo shower trays ranges from 0cm to 12cm.
Ann Boardman, Saniflo UK Head of Marketing and Product Development, comments: "With the Saniflo range of shower pumps and shower trays it really is possible to have the shower you want anywhere a water supply can reach, without the need for mains drainage to be present at the site of the shower. There are subtle yet important differences between the products and this new leaflet clearly and concisely explains the best product for specific scenarios, from contemporary to traditional designs, helping industry professionals make the right choice for their clients."
The new leaflet is being distributed to merchants and installers nationwide.
Saniflo – Shower Pumps Leaflet
View Saniflo's profile: