Story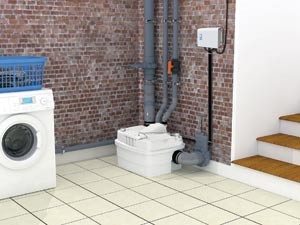 Whether you are a plumber, contractor, specifier, facilities manager or builder working on a small and simple domestic project or a large and complex commercial installation, Saniflo can help you overcome any plumbing hurdle so you can confidently offer your customers the perfect solution for anywhere in a building. And this is the real beauty behind Saniflo; you literally can have a bathroom, kitchen or utility facility wherever you want providing a water supply can reach the installations.
Let us look at a fairly typical domestic scenario. A family wants to convert a garage into a bedroom with en-suite accommodation. The main water supply is easy to connect but the soil stack is on the other side of the property meaning direct access to mains drainage requires major civils work, which the family wants to avoid from a cost, time and hassle point of view.
A Saniflo macerating pump such, as the Saniplus, works well in such situations. It is a simple, quick solution that takes the waste from a WC, a wash basin and a power shower – and a bidet if required – and then pumps it through 22mm small-bore pipework, vertically up to 5 metres or horizontally up to 100 metres or a lesser combination of both, so it is no obstacle if the en-suite you need to install is located on the other side of the property or at the bottom of a long garden.
Waste from the WC is dealt with automatically when the WC is flushed. Waste water is drained by gravity from the shower, bidet or basin to the Saniplus through inlets on either side of the unit.
If you are creating an inclusively designed en-suite then you can literally place the WC and the Saniplus anywhere in the room, giving you great scope for flexibility of product selection and bathroom design.
If a domestic application simply requires the removal of grey water waste then the Sanivite pump can help you provide a kitchen or utility room with great ease. Sanivite removes waste water from a sink, dishwasher or washing machine, even when below or distant from a drain. With four inlets it can connect to multiple appliances to pump waste water away through 32mm small-bore pipework, vertically up to 5 metres or horizontally up to 50 metres or a lesser combination of both. The compact Sanivite is usually concealed in a kitchen unit but can also be concealed behind a demountable panel to give access if required.
In commercial settings, continuity of business is key; whether that is for a B&B, a hotel, a night club, a restaurant, a hospital, a shopping centre or some other public building. The Sanicubic range offers solutions for pretty much all settings.
The Sanicubic 2 Pro, for instance, contains 2 separate pumps for absolute reliability and power. Each is fitted with a high performance maceration system and the 2 pumps operate alternately, ensuring even wear of the motors. In the event of inflow overload, such as a busy Saturday night in a city night club or a Sunday morning in a B&B, both motors run at the same time. And, if on the rare occasion one pump should fail, the other pump takes over, guaranteeing continuity of business and happy punters. An audible and visible alarm system is supplied as standard with the unit to provide early warning of problems – such as blockages from incorrect use.
This hard working, high performance macerator can take up to 340 litres of water a minute which can be pumped up to 11 metres vertically through 50mm pipework and 100 metres horizontally, or a lesser combination of both. With an inlet diameter of 110mm for WC waste and 40mm for waste water, the Sanicubic can take waste water of up to 70°C.
The Sanicubic XL is the largest lifting station in Saniflo's vast portfolio. It features a huge 120 litre tank and two integrated non-return valves and four inlets. IP68 rated, this unit has two pumps and two alarms and is ideal for large volume commercial situations such as temporary toilet, kitchen and showering facilities for workers – on or off-shore and for projects that have a large waste throughput. Easy to install – the unit can stand on the ground and does not need to be positioned below ground, it can be connected to a Building Management System and has IP68 rating.
The Saniflo website has a wide selection of downloadable brochures, which explain all product information clearly in plain English along with installation guides and e-learning modules for more in-depth installation knowledge. Saniflo is unique in that it has  a nationwide network of official Saniflo Engineers who are available to answer every query and provide the best aftercare on the market. So, rest assured, by selecting Saniflo, you are not only selecting some of the best plumbing solutions available in the world today, you are also partnering a manufacturer who takes care of you and your customers every step of the way, forever.
View Saniflo's profile: