SFA Group supports World Water Day
Story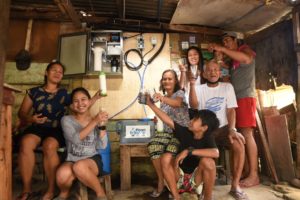 To commemorate World Water Day on 22 March, Saniflo UK's parent company, SFA with headquarters in France, is supporting the supply of clean drinking water to families in The Philippines.
Thanks to the support from SFA Group, two families from Laguna now have clean drinking water and electricity for the first time. The project is part of SFA Group recent AquaHome developments in The Philippines.
The lucky recipients are Mr. Jose Estojero & Mrs. Mallen Uson and Mr. Aurelio o. Dino and Mrs. Edna T. Dino who live in Siteo Happy Valley on the Laguna AquaHome development.
Saniflo UK Head of Marketing and Product Management, Ann Boardman, says: "We take clean drinking water and electricity for granted, but for some people it's an unknown luxury. Now, thanks to the support of the SFA Group, two families' lives just became easier and more comfortable."
View Saniflo's profile: