Story
First truly and measurably energy efficient radiator
10.5% energy saving – independently verified
Perfect 'fit' for new build projects and developments
Ideal for renewable energy or traditional boiler 'driven' systems
Stelrad Radiators, the UK's leading radiator manufacturer, unveiled its brand new Radical radiator on its stand at Ecobuild on the afternoon of Wednesday 21st March.
Radical offers the first genuinely energy efficient radiator on the marketplace, offering a 10.5% gas saving compared to a standard heating system, a fact independently confirmed by KIWA – and includes some very clever technology that makes it stand apart from the crowd.
Radical comes with an extensive list of benefits:
Its faster to warm up than a standard radiator – the front panel warms up 23% more quickly in fact
It's simple and quick to connect – its ¾" male thread connections allow you to connect the pipes directly to the Radical without additional couplers, reducing the risk of leaks and increasing the speed of installation
It comes with an integrated thermostatic valve that can be mounted to the left or right as you wish
It's fully compatible with renewable energy sources
It offers genuinely environmentally friendly heating – independently confirmed by KIWA
It offers much reduced heat loss into the wall against which it's mounted
It offers comfortable warmth even with low temperature systems such as heat pumps and more quickly – reaching a comfortable temperature up to 8% more quickly
It offers higher feelings of comfort from increased radiant heat from the front panel – up to 50% more radiation in fact
It offers lower energy bills – 10.5% lower gas bills are common – and it forces condensing boilers to operate more efficiently
And…it offers time savings both when installing Radical and if you need to drain it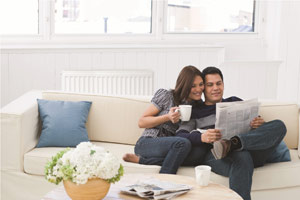 It's the first 'serial feed' radiator on the UK market place and the first to come with an integrated thermostatic valve insert. Standard radiators are 'parallel feed', where the water enters the radiator and is fed via a 'T' piece to enter both panels at the same time and the same rate. A serial feed radiator allows the water to enter via a centre tap connection, directing the water flow into the front panel first before, after circulating around the front panel, the water eventually makes its way from the front panel into the back panel.
Because the front panel of a Radical heats up first, there's a higher average temperature in the front panel than you get from a standard radiator and less heat is lost from the back panel. With Radical, the front panel heats up more quickly than a standard radiator would and ensures the front panel gives off more radiant heat – increasing the feeling of comfort to people in the room.
The simple result is that you feel warmer, faster.
The Radical is an ideal companion to lower temperature renewable heating systems, with the return flow from the heating system to the boiler being at a lower temperature, ensuring that the condensing boiler is actually able to condense efficiently. When a boiler condenses, it uses less energy – using less gas to produce heat, so a welcome energy and as a result, cost saving is available to the home owner. Energy saving can be up to 10.5% off standard energy bills – as tested by KIWA in a dynamic state.
Radical is perfectly suited to both individual and collective heating installations and can be connected to a modulating gas or fuel burner and is combinable with all kinds of low temperature systems such as heat pumps, solar cells and biomass installations.
Stelrad's Marketing Director Anna Burns says Radical keeps Stelrad at the forefront of radiator technology in Europe and offers further evidence of the desire to offer the best heating solutions in the marketplace: "Radical is a major new introduction here in the UK. It's a market leading product and adds to the key brand values that we have at Stelrad which revolve around availability, range, reliability and value. Radical is available now, it adds a significant new string to our bow with a genuinely energy efficient radiator to add to the huge range of radiators we have available, its reliability is confirmed by the ten year guarantee we offer on most of our products and the value is not in question, when you consider the fact that Radical comes with an in-built thermostatic valve and a string of benefits that no radiator released in the UK before, can match. These are exciting times at Stelrad!"
Full details of the new Radical can be found on the Stelrad web site at www.stelrad.com, or you can request details by calling on 0870 849 8058.
View Stelrad's profile: