Sterling Curve Aluminium puts the mettle into cable management
Story
Sleek, stylish and strong – meet Sterling Curve Aluminium, the latest product launch from British cable management specialist Marshall-Tufflex.
This new triple compartment Cat 7a compliant trunking solution is gently curved at the edges to prevent clutter, make cleaning easier and deliver a good-looking profile that is as strong as it is attractive; aluminum's mechanical strength, impact resistance and light weight makes it ideal for high traffic environments such as schools, hospitals, offices, factories, railway stations and airports.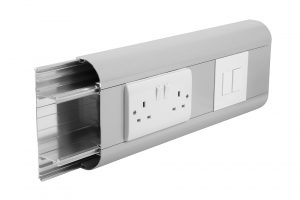 Sterling Curve Aluminum is a medium-sized trunking with three segregated compartments. It complements Marshall-Tufflex's popular PVC-U Sterling Curve range and references its unique all-curved Odyssey trunking system.
"Launching Sterling Curve Aluminum is a natural progression for our hugely popular Sterling range," said Jeremy Dodge, Marshall-Tufflex Head of Innovation. "We identified a gap in the market for a sleek, curved profile that is also strong and hard-wearing. We are confident that we have delivered with this new product range."
The 167mm x 50mm profile is available in silver grey as standard. Profile 1 is suitable for dado applications and Profile 2 for skirting installations. Boxes are available to comply with Part M of the DDA regulations. Data boxes are adjustable from 32-40mm and can be screened. Single piece moulded polycarbonate couplers, end caps, internal and external bends plus fabricated flat tees and flat angles support the range. All centre compartment fittings from Marshall-Tufflex's Sterling Aluminium range are compatible.
For full details of the new Sterling Curve Aluminium range see www.marshall-tufflex.com/sterling-aluminium-curve
View Marshall-Tufflex's profile: