Strengthening Saniflo Pump Sales Team
Story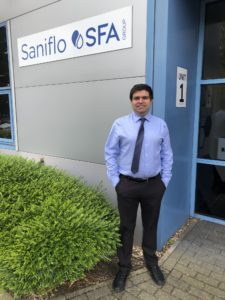 As a well-known and trusted market leader for domestic and commercial macerators, pumps and lifting stations, Saniflo recently added the renowned Zehnder pump range to its extensive product portfolio; creating an opportunity for a new member of the sales team. As such Saniflo is delighted to announce the appointment of Michael Hassan to the role of Technical Sales Engineer.
Michael's new role will include identifying opportunities in commercial sector for this wider range of products and to highlight the larger pumps in the range to new and existing customers. He has a wealth of experience in the sector that includes 13 years of B2B pump sales with companies including Thermo-Fisher, Cole-Parmer, Grundfos and Watson Marlow. Over this time Michael helped to specify pumps in a wide range of industries and applications. From small R&D pumps in labs, food & beverages and dosing pumps for the water utilities to heavy duty pumps for industry and commercial buildings, Michael has assisted a multitude of clients to get waste liquids from A to B in the most expedient way.
Outside work Michael is a big gamer and enjoys building custom gaming PCs. His most recent build has been featured in a benchmark leader board. True to his nature of solving problems he also blogs with advice on PC parts, building and crypto mining to help others in the gaming community.
View Saniflo's profile: