Story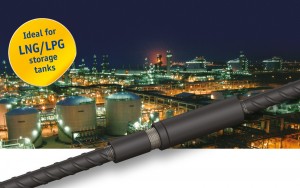 In line with its global reputation for developing reliable, high performance fixing systems for demanding construction environments, Ancon's latest launch is a range of reinforcing bar couplers designed to operate at cryogenic temperatures.
Typical applications include the construction of steel-lined concrete storage tanks for refrigerated liquefied gas (LNG/LPG).
Independently tested with cryogenic-grade rebar at a cool -165oC to the requirements of EN 14620-3, the new Ancon CTT range of couplers is available to suit bars from 12mm to 32mm diameter.
Featuring a tapered-thread to simplify bar alignment and engagement, and reduce the chances of cross threading, CTT Couplers are compact in design, so are ideal for use where space is tight, and can be installed quickly and easily, minimising  construction time and costs.
The range comprises standard couplers to join bars of the same diameter, transitional couplers for bars of different diameters and positional couplers where neither bar can be rotated.
Export Manager, Hervé Poveda says,
"Although new to the Ancon range, we have already supplied 16,000 CTT Couplers to a LNG storage project in Northern Russia. This is one of the toughest environments on earth. The tanks store gas at cryogenic temperatures on the inside and are surrounded by ice on the outside. Conditions don't get much tougher than that. The construction team wanted a high performance product with fast, trouble-free installation and Ancon's solution proved ideal."
This product launch comes just weeks after Ancon received its second Queen's Award for Enterprise. The company now holds Queen's Award for Innovation and for International Trade; these recognise Ancon's unique ability to develop new and exciting products and make them available immediately through its proven worldwide distribution channels.
A new technical brochure on the CTT coupler range is available to download at www.ancon.co.uk/cryo.
View Ancon's profile: