Story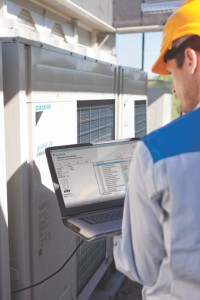 Mike Nankivell, marketing director for the UK Daikin Distributor, Space Air Conditioning plc, comments on the latest VRV development from Daikin Europe. 
"The VRV IV heat recovery system makes huge advances in climate control efficiency. Not only is it up to 28% more efficient than the previous generation of VRV, it is more flexible and can be installed faster than any other heat recovery system available."
"Daikin's VRV IV heat recovery system is able to integrate heating, cooling, ventilation and hot water, recovering "free" heat from areas requiring cooling and using it to heat other areas and provide hot water. Daikin Europe calls it "The most Sustainable HVAC System in the World".
Focus on Efficiency
Daikin Europe's three-pipe VRV heat recovery systems were already considered the most energy efficient on the market but VRV's fourth generation features important new innovations outlined below, which "fine tune" the focus on efficiency with remarkable results:
1. Variable Refrigerant Temperature technology
2. Continuous heating during defrost
3. The VRV configurator
1. Variable Refrigerant Temperature technology enables the refrigerant temperature to be adjusted to match heating or cooling demand and the outside temperature, reduced power consumption results in an improved operating efficiency of as much as 28%. Comfort is also enhanced because variable refrigerant technology enables cold draughts to be avoided,
2. The defrost cycle can result in reduced indoor temperatures at a time when this is undesirable. VRV IV's continuous heating during defrost avoids this issue and maintains comfort levels when the defrost cycle is activated.
3. The VRV configurator software enables the system to be "set up" off site, saved to a USB and simply uploaded at the commissioning stage. This feature greatly simplifies both the installation and commissioning of Daikin VRV systems.
New Multi-Port BS Boxes
Daikin's VRV systems are renowned for being the most flexible available. Modular by design, VRV be adapted to fit any can size of building and reconfigured easily if internal layouts change over time. To enhance this flexibility even further, Daikin has introduced new multi-port BS boxes. The new multi-port BS boxes have up to 16 ports and are the lightest and most compact on the market. These can greatly reduce installation times compared with installing single BS boxes. To complete the new VRV package, Daikin Europe's Intelligent Touch Manager offers comprehensive climate control and mini BMS facilities whilst also being able to link with third party systems."
Concluding Mike Nankivell observed. "As one of the oldest of Daikin Europe's network of independent distributors, Space Air is accustomed to the continuous development of Daikin products, yet even we were impressed with the improvements that have been achieved with VRV IV. We are also delighted to see the key 4th generation features being extended to the entire VRV portfolio at a time when operating efficiency is recognised as a critical factor in reducing the carbon footprint of our air conditioned buildings."
For more information please call Marketing on 0333 0069 755 or email marketing@spaceair.co.uk.
View Space Air's profile: