Story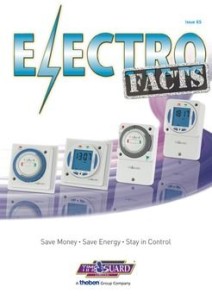 It's great to see so many new controls coming onto the marketplace and delivering ever-better opportunities for energy savings. Yet, all too often, installers and property owners and occupiers simply don't realise how versatile and effective the technology at their fingertips can be, and the blame for that rests on our doorsteps. Manufacturers and wholesalers need constantly to be feeding the information to the installers. Timeguard help with a great website that focuses simply on giving the installer the spec details they need and packaging that shows exactly what is inside the box ad what it can do. That is as true for multi- channel DIN rail switches designed for commercial use as it is for their domestic ranges.
The humble time switch is, of course, still the bedrock of the energy saving business. Professional installers can make a big difference to their customers' homes and businesses with today's smart, hard- wired devices that can be set with switching programmes as simple or complicated as they need.
Modern electronics give us dozens of available ON/OFF settings per day and a choice of workday and weekend settings for maximum fuel efficiency. Of course, what really matters is how easy it is to set the time so that people really can take full advantage of the electronics behind the facade and have the confidence to make adjustments in line with, say changes in the weather, with confidence.
As ever, the designers at Timeguard have raised the bar for design and ease of use, and made it worthwhile for people to upgrade from the old workhorse time switch that they have probably not adjusted in years.
The latest designs are more compact and attractively designed, but this isn't just a cosmetic smoothing of the edges. All the changes are geared towards genuine ease of use.
The digital switches have bigger, clearer screens for easy viewing. Programming is simple and the in screen prompts make sense in plain English. The Timeguard Boost function that has proved so popular with the trade makes a welcome reappearance on these new time controllers, enabling users to call for one or two hours extra heat or light at the press of a button and, importantly, without altering the regular programming.
Design innovation on the mechanical models includes an ingenious traffic light slider for giving easy red and green indication of the switch's status. This may seem obvious, but no-one else has done it and it follows on from the success of the colour- coded analogue-style dial on one of their electronic thermostats.
Central heating season looming….
There are still tens, if not hundreds of thousands of old-style wall 'stats that are ripe for replacement and relocation, and installers should be looking out for the opportunity to suggest an upgrade whenever they visit a new customer – and there's no reason not to make sure it really is an upgrade that offers genuinely new functionality.
With analogue-style dials on some of their electronic thermostats, they've made this more even- temperature -control a practical option for even the most technophobic home owner. There is also of course, a choice of programmable models with normal digital displays and a range of timing options including different weekday and weekend on/off timings to provide automatic time and temperature control for domestic central heating systems.
Of course, the way we use our homes has changed since the early days of central heating. Instead of congregating in one living room, family members are now more likely to be in separate rooms using multiple TVs, tablets and iPODs. So it also makes sense for heating controls to be catering for comfort in all areas of the home. Zoned control systems are now practicable in even modest homes, and most wholesalers are adding two, three and four channel controllers to their stock.
There is also still a strong market for dual-tariff electricity, but modern lifestyles mean that a bit more flexibility is needed. So their Economy 7 timers have a Boost function that enables users to over-ride the timing for a set period at the press of a button when necessary without changing the core setting (or forgetting to re-instate it).
They were originally designed for the domestic marketplace, but they have found that there is also interest in this Boost functionality for businesses as they drill down into their costs.
View Timeguard's profile: