Story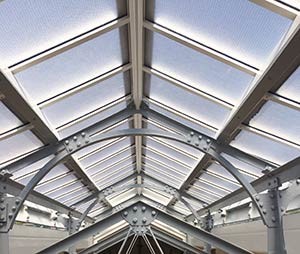 Polycarbonate pioneers Twinfix Limited are excited to announce that it will exhibit at the MATERIALS 2017 exhibition, 25th and 26th April at the ILEC Centre, Earls Court, London and they very much look forward to meeting you there.
The exhibition is the perfect platform to promote the innovative Twinfix GW Polycarbonate™.
Cleverly combining the appearance of traditional Georgian wired glass, yet with all the modern material benefits of polycarbonate, this lightweight incredibly tough and durable material will withstand all that the British weather can throw at it without cracking and breaking.
It is proving to be particularly popular for use in the rail sector where it has been much used in canopies and overhead glazing at various railway stations throughout the UK.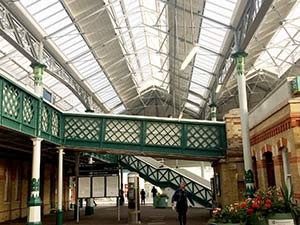 One such recent example is Lewes Station in East Sussex.  Twinfix worked alongside BAM Nuttall Ltd on the refurbishment of the station roof, providing them with Georgian wired polycarbonate Multi-Link non-fragile rooflights.  The remit was to replace some 1,178 panels of roof and vertical glazing.
Vicky Evans, Twinfix Director commented:
"For me it's important to retain the feel of a station, so a sympathetic restoration is crucial.  However, I now also think it's essential to not just replace like with like, as although traditional materials may look the same there are often disadvantages associated with them.  I think Georgian wired glass is an example of this.  It suits these old stations, it is in keeping, but it just replicates the same old problems; it breaks, it needs replacing.  The cycle continues.  Durability and sustainability are key in any refurbishment, why replace with something susceptible to breakage?
So this was an easy one to solve, the product needed was our Georgian wired effect polycarbonate.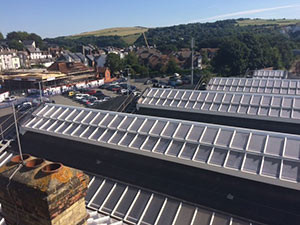 This polycarbonate glazing mimics the traditional Georgian wired glass that it will be replacing, but it will not break in use.  It is therefore safer to install and to use as an overhead glazing material, with no risk of glass cracking and shards or glass dust falling onto the platform below.  The long term cost saving of not needing to replace broken panels, accompanied by the massive safety advantages of not worrying about falling glass, just have to be considered as key benefits of our Georgian wired polycarbonate roof glazing."
Georgian wired polycarbonate also has the additional benefit of being lighter than glass, therefore making it easier and quicker to install on a roof.  When it replaces glass it does not usually require any extra structure being put in place as it is normally considerably lighter than the original glazing.
Georgian wired polycarbonate can be pre-glazed in the Twinfix Multi-Link framing system which has a number of advantages over the old style two-part glazing bars that are put together on site to create a glazed roof.  The Multi-Link system is manufactured in the Twinfix factory and incorporates an innovative fix and link installation feature that makes it very quick to install.  Once on site there is less disruption at a station, which is important as the public needs to be serviced as normally as possible during building works.  This panel system also results in fewer errors on site during the install due to the pre-assembly of the panels.
Multi-Link roof glazing is also non fragile to ACR(M)001:2014, which is a key feature of all Twinfix station roof glazing systems.  When the life of old glazing on a roof is over it needs to be replaced with non-fragile roof glazing to limit risks on the roof.
All these advantages led to a successful roof re-glazing, providing Lewes station with a non-fragile, virtually unbreakable and attractive roof that keeps the feel and look of this heritage station.  Any hurdles that were met were overcome by the skilled and dedicated Twinfix team working closely with BAM, with one joint goal in mind, completing the project successfully.
Now finished, Lewes Station is a wonderful example of the Georgian wired Multi-Link product. Twinfix, BAM Nuttall and Lewes station can be very proud of these refurbished premises.
For further information, contact Twinfix Limited on 01925 811311 or visit www.twinfix.co.uk where you can view the entire product range, access downloads, watch HSE drop test videos or register your interest in hosting a CPD presentation.
View Twinfix's profile: