Story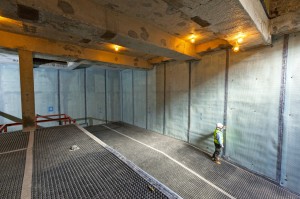 Triton's new 'Type C' waterproofing website has been designed as a resource for specifiers of structural waterproofing systems. Triton supplies a complete range of systems for structural waterproofing but this new site focuses on the company's BBA approved Platon cavity drained membrane systems – defined as 'Type C waterproofing' in BS 8102 2009.
Cavity drain membranes work on the principle of allowing water to continue to penetrate a structure but control it in the air gap and divert it to a suitable drainage point. Once the membrane has been fitted, wall surfaces can be dry lined or plastered directly. Floors can be screeded or a floating dry board system installed.
The membranes are suitable for use in new build, existing basement conversions or retrofit projects and are quick and easy to install. Minimal surface preparation is required making them ideal for heritage buildings and in conservation projects.
They are impermeable to water, gas and water vapour and also suitable for specification as ground gas barriers and to upgrade contaminated industrial floors.
typecwaterproofing.co.uk also refers to the ancillary products required to complete a Type C system including sumps, pumps and drainage components and anti-lime coatings to protect cavity drained systems from 'free lime' blockages.
There are case studies provided to demonstrate the use of Type C systems in a variety of new build and existing domestic, commercial, historic and public buildings.
Direct links from individual product sections on the site take you to technical data sheets, detail drawings, BIM objects and NBS clauses hosted on Triton's main website. The enquiry form lands directly on the desk of technical staff who can help you with your project.
Triton offers RIBA approved CPD seminars for architects, training for installers and full technical support.
Visit http://www.typecwaterproofing.co.uk
View Triton Systems's profile: