Story
A bespoke cable management solution was delivered to a tight deadline ensuring halls of residence at the University of Warwick were ready to welcome students in time for the new term.
Marshall-Tufflex's sleek Odyssey PVC-U trunking system offers a completely curved profile and is the only one of its kind on the market. It has been designed specifically with health, education and office environments in mind.
Bespoke lengths of 2.25m were cut to size to fit-out student rooms in the Arthur Vick Residence at the university. The Odyssey trunking was supplied in white with flush fitting charcoal accessory boxes to comply with Part M of the Building Regulations.
The dado trunking delivers data and electricity to desk areas in each of the 150 study rooms and was part of a refit of the whole residence. The halls are in constant use so the pressure was on to complete the refurbishment during the university vacation time.
Marshall-Tufflex has a dedicated team to deal with special projects where cable management products are fabricated to customised design and specification. The team was able to provide the bespoke cut lengths with a quick turnaround, helping the refit stay on track and on budget.
This specialist service offered by Marshall-Tufflex was a key consideration, but Odyssey was also chosen for its stylish curved profile, which has the added benefit of avoiding dust traps or cluttered surfaces and makes cleaning easy. Specially designed wrap-around covers give added security and result in smoother lines to further enhance Odyssey's unique appearance.
Electrical Design Engineer Gary Price, from the University of Warwick Estates Office, said the system was chosen to enhance the look of the student rooms and also to provide the most cost-effective and timely solution. He said: "I have used Odyssey many times in the past and it looks aesthetically pleasing and is a very good product. We only had 10 weeks on site and I wanted to limit any waste in terms of time and materials. Having the product cut to size in the factory and delivered as a complete package for each study bedroom meant that it could be easily fitted into place with no waste. This has delivered a very good result."
With a tight turnaround to get the project completed, ease of installation was another key factor. As well as being cut to size off-site, the base is pre-punched so does not require drilling. The trunking has adjustable bends with a 25mm bend radius to manage difficult angles, and cabling is made easier thanks to a specially designed internal cable tray.
The three compartments allow full cable segregation and both trunking and accompanying fittings are suitable for installations up to Cat 7a. The system is even tamper resistant thanks to fittings that locate with a special clip design, which is useful in school or high security settings.
Supplied by Edmundson Electrical in Coventry, the Odyssey range is also available as an antimicrobial option, and with electromagnetic shielding.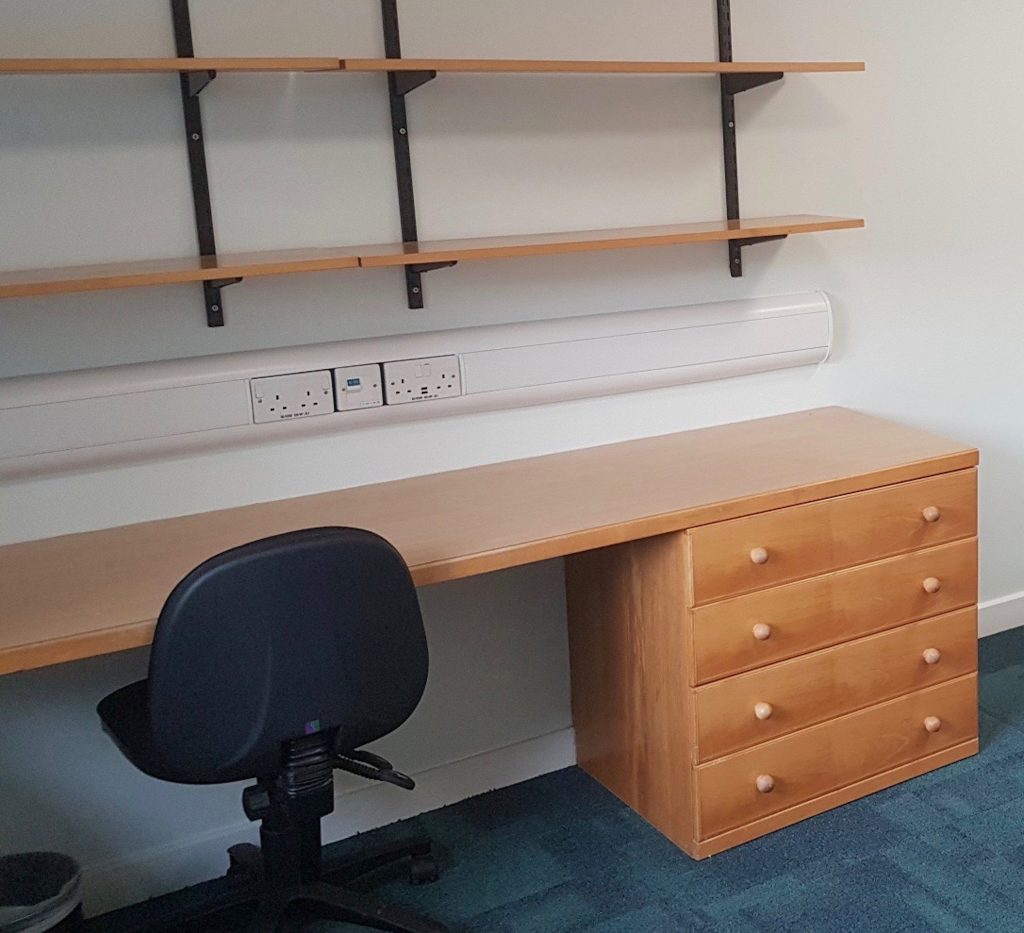 View Marshall-Tufflex's profile: