Story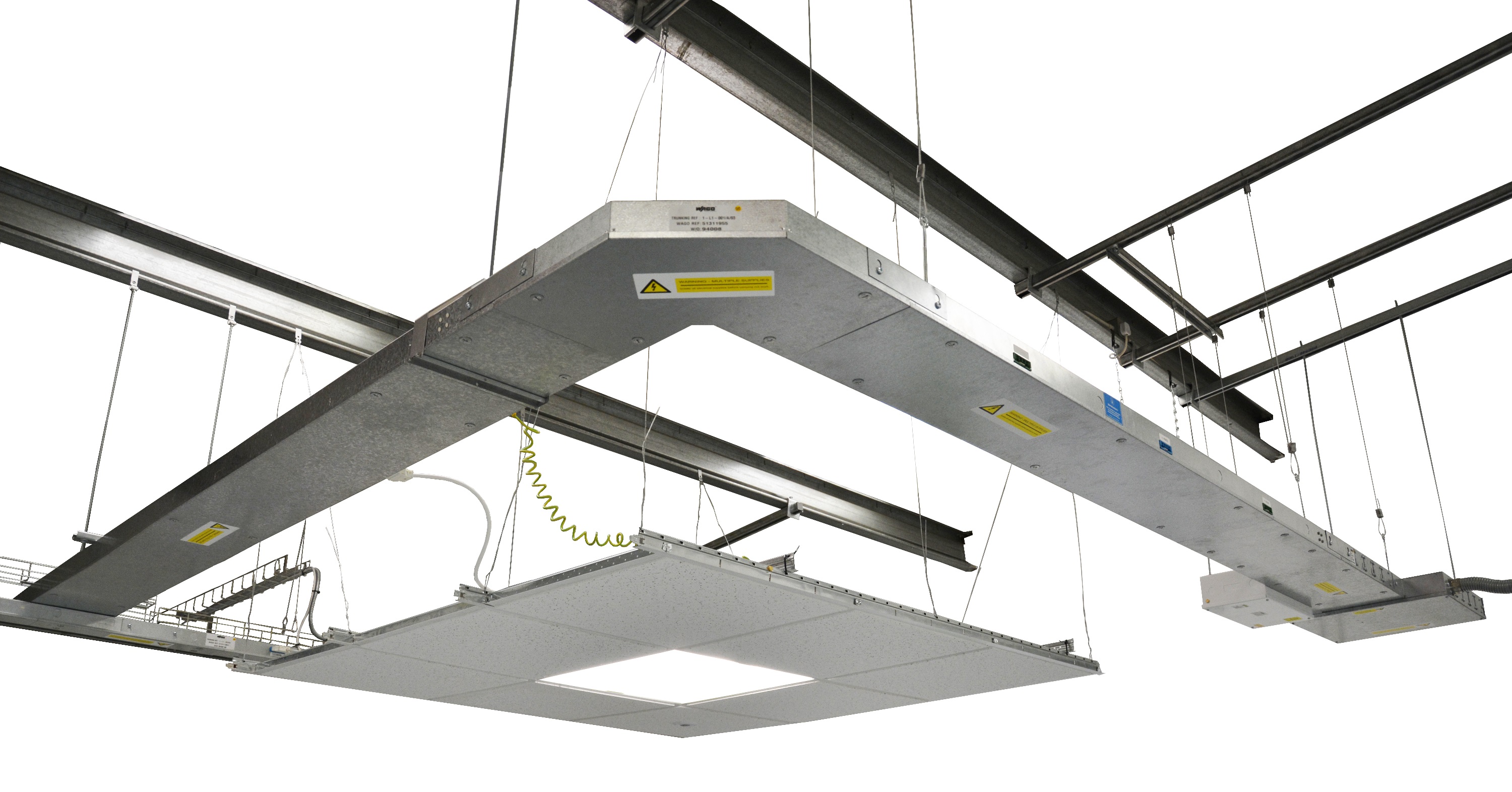 WAGO has invested over £200,000 in building an engineering centre located at its UK headquarters in Rugby that is dedicated to designing, pre-assembling, testing and distributing bespoke modular trunking systems for commercial and industrial new builds and upgrades. The centre is a world first for WAGO.
Modular trunking
"While modular wiring is not new, what is different is the concept of modular trunking," explains WAGO's Steve Emberton. "Today WAGO is offering a one-stop shop, with modular trunking bringing together all control, power and lighting into one integrated system. Our ability to combine a modular trunking system with I/O is a first within the UK market, allowing many building services to be monitored and controlled using a single platform." The same trunking can also carry other piped services.
The modular trunking is assembled at WAGO's facility in incremental lengths and can be installed by non-qualified personnel. Electricians are only required on-site, and in far fewer numbers, for final wiring and testing, thereby significantly reducing labour costs.
Contained within the modular trunking is WAGO's WINSTA® pluggable connection and cabling system which, via a system of harmonised plugs and sockets, connects all electrical installations and components with each other, from large fan coil units to individual dado sockets. The connectors simply plug together and are keyed to avoid mis-mating, significantly reducing installation errors. The trunking distributes power and data to and from I/O modules to monitor and control various automated systems throughout a building.
Initial investment on modular trunking is rapidly returned with significantly faster installation times leading to considerably lower overall project costs. WAGO's ability to deliver a fully integrated "plug and play" system assembled off-site at its production unit, allows customers to benefit from shorter lead times and more effective distribution of labour. With less cabling and testing required, fewer staff are required for installation. This reduces the numbers of people required to work at height, while improving overall site health and safety.
WAGO-I/O-System
The WAGO-I/O-System supports all major protocols such as BACnet, KNX, DALI and EnOcean, Modbus/TCP/IP. The I/O system can be used to control and monitor almost any building automation task, from heating, ventilation and air conditioning (HVAC) to lighting or window blinds. "The compatibility of the I/O system, with all commonly used programming protocols, permits streamlined integration and communication with almost any existing systems installed prior or alongside WAGO's.
"The concept was created following a demand from the hospital sector, where there was a need to ensure separate power supplies for critical areas like theatres, and for more general areas" says Emberton.
The engineering centre in Rugby comprises a design team, pre-assembly, testing facility and despatch, manned by some 20 personnel.
Design team
The modular trunking is assembled at WAGO's facility based on specifications supplied by the customer, or designed by WAGO's engineers. The company offers consulting and project planning services to help customers devise the best possible solution for their project. An experienced in-house engineering department offers access to highly skilled building services project consultants, who offer advice or undertake site visits to assist the design and planning process of projects, and ensure that the right systems, solutions and components are selected.
Where previously customers would have to design, commission and install trunking, HVAC, lighting and blind control systems often from separate companies, WAGO is able to provide a fully integrated solution delivering comprehensive building automation capabilities underpinned by secure, reliable connections.
Pre-assembly and testing facility
All modular trunking is tested electrically and for material defects using three rigs from MK Test Systems. This ensures that every trunking system leaves the facility having been fully tested to specification ready for quick on site installation.
All trunking is fitted with WINSTA connectors that have a high current rating, and wiring that performs to specification, with minimal leakage or field effects between adjacent running cables.
Despatch
While time is saved during installation, WAGO is keen to avoid delays in delivery or confusion as to what has been dispatched and where it is to be used. WAGO packages the modular trunking safely and securely to ensure it arrives at site ready to use. For schools, hotels or offices, where several types of room are repeated in a building, the trunking is packed "per floor" or "per room", ensuring that the installer has the right trunking per room type delivered in one clearly labelled container.
View Wago's profile: