Story
The Condair ME evaporative humidifier is helping Weatherite reduce cooling system energy consumption for its data centre and telecoms clients by up to 80%. Condair's evaporative humidifier is providing adiabatic cooling in Weatherite's innovative Adtec-D free air cooling unit. The Condair ME boosts the cooling capacity of the system, allowing the Adtec-D to fully replace the need for mechanical cooling in some applications.
The Adtec-D is a self-contained, modular cooling system that can be located either inside or outside of a building. In data hall or telecom environments, for most of the year it operates in free air cooling mode and uses the outside air alone to cool the internal environment. However, when the outside temperature rises to around 20°C, the Adtec-D switches to adiabatic cooling mode. The incoming air is then passed through the Condair ME, which evaporates water into the fresh air stream, cooling it by up to a further 12°C.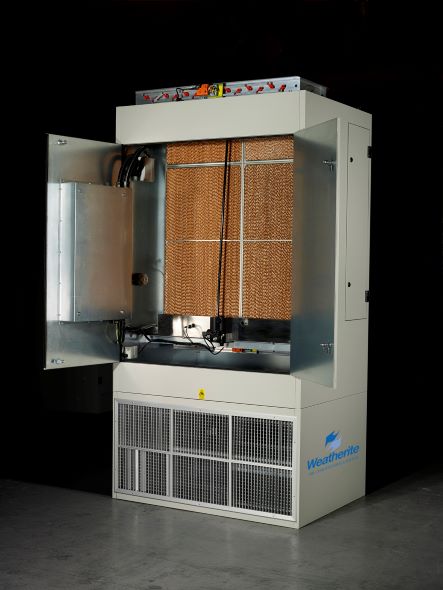 By combining free air and evaporative cooling, Weatherite's Adtec-D has recently been able to fully replace DX mechanical cooling across more than 800 switchgear rooms for a leading UK telecoms provider. A total of around 1,500 Adtec-D units have been deployed in the project to date. A single legacy 30kW DX and free air cooling unit was consuming around 71,000kWh annually to maintain the required internal temperature, operating 24/7. The replacement 30kW Adtec-D cooling unit consumes just 14,000kWh to meet the same annual cooling load. This resulted in an 80% energy saving for the client, which is a significant 83.3MWh annual saving in electricity across the UK-wide retrofit project.
Andy Lewis, Technical Manager at Weatherite commented, "The Adtec-D is an ideal retrofit solution for telco or DC clients who wish to take advantage of free air cooling rather than continuing to operate DX chillers. Available in modules that can provide from 15 to 80kW of sensible cooling, the Adtec-D will typically operate with an energy efficiency ratio greater than 15, even at peak outputs. The evaporative cooling technology, supplied by Condair, ensures the Adtec-D can maintain the allowable ASHRAE conditions, even during the warmer months in a European climate without the reliance on F-gas refrigerants."
"Weatherite only uses the highest quality components in its HVAC solutions, and this includes Condair's evaporative humidifier. It certainly delivered on our specific requirements for operation, control and hygiene management, and we've been very pleased with the support offered by Condair in connection with this successful project." Andy concludes.
Dave Marshall-George, UK Sales Director at Condair, commented, "It's a privilege to partner with Weatherite on such an innovative product that is helping the UK's telecommunications sector meet its energy and sustainability objectives. As well as offering the most comprehensive range of humidifiers on the market, Condair has the ability to work with OEMs to create customised solutions. The evaporative humidifier incorporated into Weatherite's Adtec-D is based on our standard Condair ME, but with some modifications to meet the project requirements. This project is an example of how Condair can develop innovative and flexible solutions for its customers."
Weatherite is a leading UK manufacturer of made-to-measure HVAC equipment, based out of the West Midlands. Operating for over 50 years, the company provides a range of AHUs, heat recovery systems, packaged rooftop equipment and air cooled chillers.
The Condair Group is the world's leading specialist in humidity control and evaporative cooling, with energy efficient, hygienic and innovative technologies for commercial, industrial and heritage applications. Condair is represented in the UK by Condair Ltd, which offers system design, manufacture, supply, installation, commissioning, maintenance and spares. You can find out more by visiting the company's website at www.condair.co.uk.
View Condair's profile: